GRCTV provide's our community with the latest sector developments, insights into the minds of industry leaders, visionaries, government officials and academics, plus provide access to exclusive content that will address both the wider social impacts and the impacts on organisations and businesses around the globe.

GRCTV is hosted by Joe Tidy, BBC News Cybersecurity Correspondent and feature's monthly segments from Nina Schick, Author of Deepfakes and Oliver Bullough, Author of Moneyland plus weekly guests from all corners of governance, risk and compliance (GRC).
Join us weekly on GRCTV to deep dive into the latest developments in governance, risk and compliance. GRCTV will be broadcasted weekly on a Tuesday 4pm-6pm (GMT).
Commentary on the latest news
Presented by Joe Tidy of BBC News, Joe will round up the weeks latest new stories from the world of governance, risk and compliance. Joe will keep your finger on the pulse of all the latest and greatest news stories of the week.
In Conversation With
A weekly segment of GRCTV where our guest host is joined for an hour-long discussion designed to deep-dive into an array of unique, interesting and eye-opening conversations.
Panel Discussion
Joe Tidy will host a 45-minute panel discussion that explores a dedicated topic in line with the weeks theme, Joe will be joined by 3-4 leaders of industry as they share their knowledge and experience.
Upcoming Episode
Join GRC TV as we delve into how the pandemic created a cyber fraud epidemic and we chat with the man poking holes in Apple's app store and the multi-million dollar scams operating on within the app store.
GRCTV is free to watch, and you can view the next episode on Tuesday 3rd August at 16:00 by returning to this page, to make sure you don't miss the episode, use the calendar button below.
Calendar
| Episode | Date | On Demand |
| --- | --- | --- |
| GRC TV: Data Protection & Privacy | 25 May 2021 | |
| GRC TV: AI & Synthetic Media | 1 June 2021 | |
| GRC TV: Kleptocracy & Virtual Assets | 8 June 2021 | |
| GRC TV: Trust & Transparency | 15 June 2021 | |
| GRC TV: Live from PrivSec Global | 23 June 2021 | |
| GRC TV: The Future Of Warfare & Cyber Threats | 29 June 2021 | |
| GRC TV: Financial Crime | 6 July 2021 | |
| GRC TV: Risk Quantification and Surveillance Advertising | 13 July 2021 | |
| GRC TV: Incident Response & lessons for success | 20 July 2021 | |
| GRC TV: Kabir Barday, CEO of the fastest growing company in America, OneTrust in conversation for GRCTV | 20 July 2021 | |
| GRC TV: How to succeed as a security leader & the top security considerations in a digital nomad era | 27 July 2021 | |
| GRC TV: The cyber fraud epidemic and the app store scams investigation | 3 August 2021 @ 16:00 | |
| GRC TV: Safeguarding against information warfare & state surveillance and the limits on government power | 10 August 2021 @ 16:00 | |
Themes and Topics
GRCTV will be influenced by current affairs, and each will aim to provide topical insights on the latest developments.
Our longer form conversation and panel discussions address prominent issues from GRC, while our longer form conversations will address impacts on society and the world as a whole, our panel discussions will focus on the effects on professional organisations.
| GRC TV Themes & Topics | | |
| --- | --- | --- |
| Integrated Risk Management | Financial Crime | Deepfakes |
| Third Party Management | Regulatory Challenges | Synthetic Media |
| Operational Resilience | Building a best-in-class GRC division/department | Media Manipulation |
| ESG | Building a GRC Culture | National Security and State-led Espionage |
| Ethics | Automation in GRC | Information Ecosystem |
| Reputational risk | Effective controlling and monitoring | Disinformation vs Misinformation |
| Enterprise Legal Management | GRC as a business enabler | Kleptocracy |
| Privacy | An outlook from the c-suite of GRC | Grand Corruption |
| Data Protection | Consumer protection | Anti-corruption in Developing Nations |
| Cyber Security | Anti-Bribery Risk Assessments | Cryptocurrency |
| Business Continuity | Change management | Law Enforecement |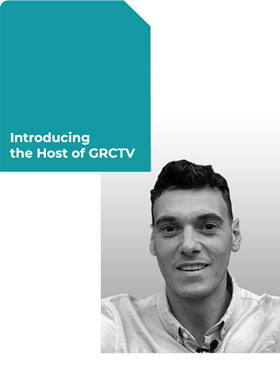 Introducing Joe Tidy
Cybersecurity Correspondent for BBC News and Host of GRCTV
You may recognise Joe Tidy from BBC News, Joe is often featured reporting on all things technology and cyber security related for one of the world's leading news channels.
Joe Tidy was the BBC's first dedicated Cyber-security Reporter working on investigations for international and home news outlets. He covers cyber crime, hacking, privacy, data security, online safety and gaming.
Joe has built a reputation for investigating the darker sides of the internet and how technology affects the way people live. He is known for tracking down and speaking directly to hackers and criminals who are responsible for some of the biggest cyber incidents of recent times.
Joe previously worked for Sky News, and is also the anchor for GRC World Forum's leading data protection, privacy and security event series PrivSec Global.
Joe is GRCTV's weekly host and will be reporting the latest news, as well as moderating discussions and debates on all things governance, risk and compliance.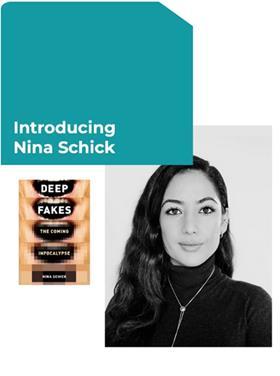 Introducing Nina Schick
Author of Deepfakes and Host of In Conversation With
A political broadcaster and author, Nina specialises in how technology and artificial intelligence are reshaping politics and society.
Nina has worked on the frontline of seismic political events over the last decade. This includes her work on Brexit; the EU's migrant crisis; Emmanuel Macron's Presidential campaign; election interference (including in the 2016 and 2020 US elections), and on the evolution of disinformation.
Nina has advised a group of global leaders including Joe Biden, the former Vice President of the United States, and Anders Fogh Rasmussen, the former Secretary General of NATO, on AI generated synthetic media in the form of deepfakes.
Nina will host conversations on, Deep fakes, Synthetic Media, Media manipulation, National security, State led espionage, Infocaplyse - the increasingly dangerous and untrustworthy information ecosytem , Disinformation vs misinformation, Global information disorder, Geopolitics and AI.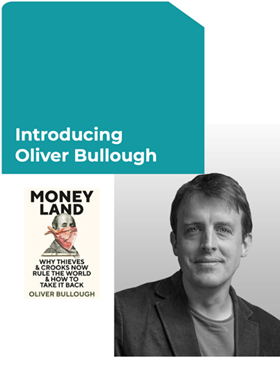 Introducing Oliver Bullough
Author of Moneyland and Host of In Conversation With
Oliver Bullough is a journalist and author from Wales who moved in 1999 to Russia. He worked first for local newspapers in St Petersburg and Bishkek (Kyrgyzstan), then for Reuters. He stayed in Moscow, mainly reporting on the war in Chechnya, until 2006. Oliver has written and published three books;
Let Our Fame be Great, The Last Man in Russia and Moneyland, and tells the story of how the world's super-rich have broken free of democratic control, and formed their own nomadic global community. Moneyland has had international acclaim and is a Sunday Times Bestseller, as well an Economist, Times and Daily Mail book of the year.
Oliver will host conversations on Kleptocracy, Grand corruption, Combating financial crime, Reform of financial crime, Non-financial ways that money is moved, Anti-corruption in developing nations, Insights into law enforcement and ex-law enforcements battle against financial crime, Cryptocurrency and fine art/property as a means to launder and move money.