Our flagship event series #RISK is where the whole 'risk' community comes together to meet, debate, and learn, to break down silos and improve decision-making.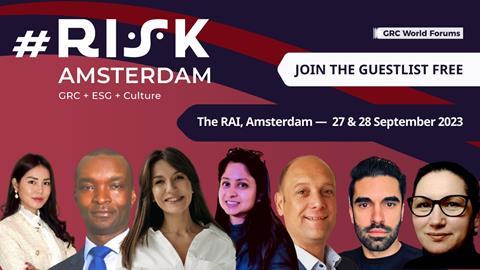 As the world becomes increasingly interconnected and complex, so too does the risk landscape. That's why it's more important than ever for business leaders and department heads to stay up-to-date on the latest trends and best practices.
That's where Risk Amsterdam comes in. This two-day event, taking place on September 27-28, 2023 at RAI Amsterdam, is the premier event for risk professionals in Europe.
With over 50 exhibitors, keynote presentations from over 100 experts and thought leaders, panel discussions, and breakout sessions, Risk Amsterdam is the perfect place to learn about the present and future risk landscape.
Don't miss out on this opportunity to learn from the best and network with the brightest minds in risk.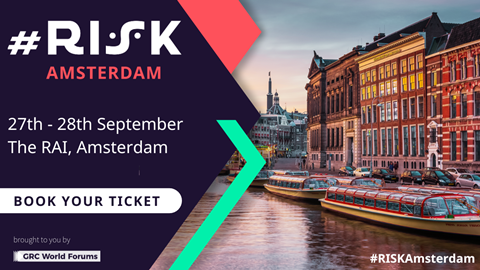 Here are some of the benefits of attending Risk Amsterdam:
• Learn from leading experts in the field of risk
• Stay up-to-date on the latest trends and best practices
• Network with other risk professionals from across Europe
• Gain insights into how to mitigate emerging risks
• Build a risk-aware culture within your organization
So if you're serious about risk, then you need to be at Risk Amsterdam.
#RISK London 2022 Highlights Video

#RISK Amsterdam will address the big issues – Five theatres with insightful sessions, case studies, networking, high level thought leadership presentations and panel discussions.
PrivSec Theatre
Ransomware
TPRM
Practical aspects of handling data breaches
Cross-border data transfer issues
Diversity in PrivSec
New EU data laws
Cyber Threat Landscape
Changing Role of the CISO
Identity & Access Management
Cyber Attack Investigations
Cyber insurance and cloud risk management
Threat Detection and Response
Compliance Theatre
Reduce the overall total cost of compliance
Stay compliant with changing regulatory requirements
Encouraging compliant behaviors
Emerging cloud security regulations
Zero Trust standards and compliance requirements
Building A Business Case For GRC
Financial Fraud Theatre
Are We Winning the Fight Against Financial Crime?
Latest innovations in artificial intelligence
Future Fincrime challenges
Sanctions
Money mules and money laundering
Customer risk assessments
Finding the most effective technologies to fight financial crime
KYC Onboarding in a Hybrid World
Common patterns in identity fraud
What payments may look like in the Metaverse
Dealing with spiralling fraud costs
ESG Theatre
Ethics
Diversity
Sustainability
Procurement
Wellbeing
Corporate reporting
Making Data-Driven ESG Decisions
Plenary
Interconnected Risk
Geopolitical Risks
Reputational Risks
Risk & Resilience Management