Access this episode on demand, as we delve into on the current landscape of cyber security with Ciaran Martin, plus how to secure your digital transformation with strong security.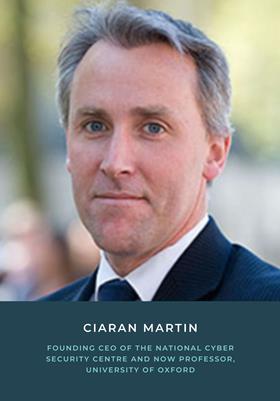 Joe Tidy in conversation with Ciaran Martin, former CEO of National Cyber Security Centre and Professor of University of Oxford
Join Joe Tidy as he interviews the former founder and CEO of the National Cyber Security Centre for a 30-minute session on the current landscape of cyber security. Joe and Ciaran will discuss national and international security challenges, crypto and it's lack of security measures, the Pegasus investigations, and the Cyber/Digital Cold War, plus much more.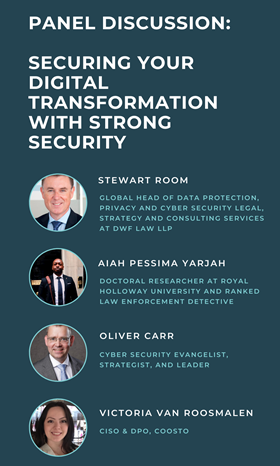 Panel Discussion: Securing your Digital Transformation with Strong Security
Digital transformation has propelled organisations to move their workloads, applications and systems to the cloud, and they're now generating more data than ever before.
But how does an organisation ensure that effective security processes and measures adapt and keep pace with digital transformation?
Our panel of experts deep-dive into what organisations need to consider from a security perspective when going through digital transformation and explore best practices for future-proofing their security processes.
Our expert panel includes:
Host: Stewart Room, Global Head of Data Protection, Privacy and Cyber Security Legal, Strategy and Consulting Services at DWF Law LLP
Oliver Carr, Cyber Security Evangelist, Strategist and Leader
Aiah Pessima Yarjah, Doctoral Researcher at Royal Holloway University and Ranked Law Enforcement Detective
Victoria van Roosmalen, CISO & DPO, Coosto
The latest news and updates from around the globe
Expect to hear the latest news on data protection, privacy, cybersecurity, financial crime, regulations, governance, compliance, risk and much more.