PrivSec London opens this week to bring industry professionals to forefront of the global conversation on all things Data Protection, Privacy and Security.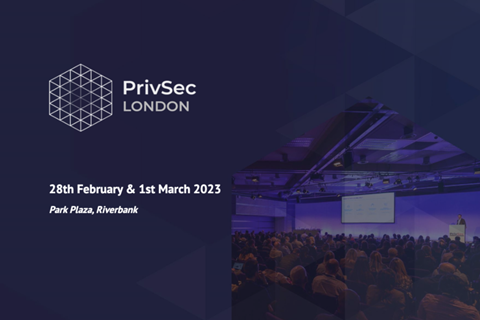 Live at Park Plaza, Riverbank in London on February 28 and March 1, PrivSec London gives business leaders and practitioners a unique opportunity to learn more about Trust, Digital Transformation, Ethics, Data Protection, Privacy, Security and much more.
The event will also provide a unique opportunity for industry professionals to network with peers and develop business relationships.
Across two days, the Privacy Theatre and the Security Theatre will deliver a content-rich agenda of keynotes, presentations and panel discussions.
Click here to see the full agenda
Privacy Theatre, Day 1 (Tuesday 28 Feb), don't miss:
Keynote: 09:30-10:00am
Net Zero and the potential of consumer data - an energy sector case study: The need for cross-sectoral best data practice principles
The digitalisation of UK energy sector is taking place whilst consumers are leaving digital trails across a broader spectrum of their lives. These digital trails can be used to generate geo-spatially specific psychographic profiling and enable the micro-targeting of consumers.
Mark Workman PhD (MInstRE, FRGS, Director, Foresight Transitions Limited and Affiliate Researcher, Imperial College London) examines how data can be used to influence consumer behaviour to meet Net Zero through "psychographics".
Speaking exclusively to PrivSec London, Mark said:
"The use of consumer data poses a huge challenge to privacy…There is a real risk that individuals, whether they be voters or energy consumers, can be manipulated if there is a lack of robust governance. Therefore, there is a need for strong governance, as well as safeguards to prevent unintended consequences like consumer exploitation."
Panel debate: 11:40am – 12:20pm
Data Localisation: Where Is It Required and How Should Businesses Respond?
Data Security falls under the microscope in one of the morning's panel debates on Day 1 of PrivSec London.
As more countries impose data localisation requirements mandating new storage and processing standards within country borders, organisations are challenged to consider whether new requirements are proportionate and necessary.
In this panel debate, Elizabeth Smith, Head of Compliance, BCS, at The Chartered Institute of IT talks with Simon Pillinger, Head of Governance Ethics and PPI at Akrivia Health, to discuss the potential benefits and drawbacks of data localisation.
Our experts will consider challenges and opportunities these developments pose to businesses and how organisations can respond to best effect.
Also in the Privacy Theatre on Day 1
- Keynote: 10:45 – 11:15am "DSARs: Utilising Privacy Automation to Build a Measurable ROI Programme".
Speaker:
Joseph Byrne, Solutions Engineering Specialist, FIP, CIPP/E, CIPM, CIPT & GRCP
- Panel: 16:00 – 16:30 "International Data Transfers: Technical Solutions, ICO Guidelines and the Future".
Speakers:
Cameron Green, Data Protection International and Law Enforcement Lead, HM Revenue and Customs
Jose Caballero, Senior Data Protection Advisor, Bird & Bird
Mariano delli Santi, Legal and Policy Officer, Open Rights Group
Security Theatre, Day 1 (Tuesday 28 Feb), don't miss:
Panel Debate: 09:30am – 10:00am
Hybrid Work Is Here to Stay: How to Improve and Maintain Cyber Resilience
Security takes centre stage in a session that explores the rise of hybrid work and its implications for cyber resilience. As organisations increasingly shift to a mix of in-office and remote working, it's never been more critical to double down on cyber security measures.
Our panellists will look at strategies companies need to employ to maximise the security and cyber resilience of hybrid environments, with focus themes including: identifying and mitigating risk, implementing effective security protocols and maintaining strong collaboration.
Speaking exclusively to PrivSec London, panellist Paul Bedford said:
"Organisations are facing two major issues: the first is putting in layers of technical protection that secures their devices and data outside of their internal firewalls.
"Boundaries used to be very clear, but with home working and data being stored in the Cloud, it's now a much more difficult exercise.
"The second is the Human Firewall: creating a culture of "Security First" amongst their employees. This is about fostering behaviours that lead to making data more secure and reducing risk through education."
Also on the panel:
Panel debate: 15:00 – 15:45
The DPO's Balancing Act: Navigating the Roadblocks to a Successful Privacy Management Programme
A must-see for Privacy experts, panellists at PrivSec London turn their attention to the role of Data Protection Officer (DPO) and the many plates that DPOs must spin as they work to optimise organisational data protection programmes.
Empowered with independence and reporting to the highest level of management, the DPO must monitor their company's compliance with the GDPR and act as the go-to for complex privacy issues.
As such, DPOs face many hurdles, including educating busy colleagues on the importance of data protection, persuading other departments of the value of compliance, and delivering hard truths to a management team that may not want to hear them.
Speaking exclusively to PrivSec London, panellist and Camelot DPO, Daniel Selman said:
"We share the same challenge as Information Security, Compliance, Legal and basically any non-revenue generating area of the business as to how we demonstrate our value to the business to justify the cost of our activities.
"That's why I try to focus not just on avoiding the costs of non-compliance – the potential fines and reputational impact – but on privacy and data protection as an enabler not a blocker to the business."
Also on the panel:
Also in the Security Theatre on Day 1
- Panel: 11:55am – 12:35pm: "Third Party Risk Management: Strategies and Tools to Mitigate Cyber Threats" (Sponsored by C2Cyber).
Speakers:
Matthew Browning, Head of Cyber Oversight, Direct Line Group
Jim Newman, Head of Cyber Security, Railsr
Andreas Wuchner, Cyber and Risk Expert, C2Cyber
Daniel Garcia, GRC and FinTech Evangelist
- Panel: 15:05 – 15:45: "The Future of Cybersecurity: Emerging Threats and Innovative Defences".
Speakers:
Alison Wakefield, Professor of Criminology and Security Studies, University of West London
Tim Burnett, Head of Cyber Security and Compliance, Science & Technology Facilities Council
Privacy Theatre, Day 2 (Wednesday 1 March), don't miss:
Panel debate: 11:40am – 12:20pm
Privacy Programme Management: How Companies Can Best Juggle Their Compliance Requirements
In today's digital landscape, companies must navigate a complex array of privacy laws and regulations. This panel discussion will explore the challenges and opportunities of managing a privacy programme, and provide insights on how companies can best juggle their compliance requirements.
Panellists Gal Ringel, CEO and Co-founder at Mine, and Glen Hymers, Head of Data Privacy and Compliance and Information Assurance at Cabinet Office Digital, examine key components of cutting edge privacy programme management and give practical advice for data privacy practitioners.
Panel debate: 15:00 – 15:40
Emerging Privacy-Enhacing Technologies (PETs): What Works?
Exclusively at PrivSec London, a panel of experts take a deep-dive into PETS (Privacy-Enhancing Technologies) – a rapidly growing areas of interest for organisations aiming to protect personal information smarter, safer, and more efficiently.
Debate will centre upon technologies available, the challenges and opportunities they present, and what organisations can do to implement new gadgetry to safest and best effect.
On the panel:
Also in the Privacy Theatre on Day 2
- Hosted debate: 10:00am – 10:40am: "Data Protection Authorisation Framework: Could a Standard Regulatory Structure Really Solve Every Privacy-Related Problem?
Host: Alexandra Khammud, Senior Information Security Project Manager
Speakers:
Mark Chapman, Data Privacy Manager, Rolls Royce SMR
Jonathan Craven, Privacy and Compliance Lead, UK/EU, iRhythm Technologies Ltd
- Panel: 14:15 – 14:55: "New EU Digital Regulations: Beyond the GDPR".
Speakers:
Joanna Moczadlo, Senior Legal Counsel, Pay.UK
Dr. Nathalie Moreno, Partner, Technology and Data Protection, Addleshaw Goddard LLP (former Legal Counsel at European Commission)
Danielle Stevenson, Group Data Protection Officer, The Access Group
Vincent Rezzouk-Hammachi, Managing Director - Privacy Solutions, Bird & Bird
Security Theatre, Day 2 (Wednesday 1 March), don't miss:
Panel debate: 09:30am – 10:10am
The Role of Cybersecurity in Disaster Recovery and Business Continuity Planning
Cybersecurity is at the heart of disaster recovery and business continuity, and it's a topic that our panellists will examine in-depth at PrivSec London.
Central to debate will be how cybersecurity can be enhanced with both strategy and tools to mitigate cyber threat. Regular testing and plan updates will also fall into focus as our experts offer guidance on how organisations can promote resilience should the worst happen.
Speaking exclusively to PrivSec London, panellist Michelle Levesley, Cyber Awareness Lead at Channel 4, said:
"Addressing the people issue and ensuring that they have the capacity to address cybersecurity threats is essential for building resilience. This is the foundation upon which any technology structures are built."
On the panel:
Keynote: 12:40 – 13:10
The Future of CCTV: Protecting privacy, security and digital rights
The use of CCTV in modern Britain has changed drastically in recent years. No longer just passively watching us, the cameras on the streets of the UK are increasingly AI-powered smart devices that are actively analysing us and our behaviours.
Madeleine Stone, Legal and Policy Officer at Big Brother Watch will present her views on this crucial topic, asking how we can protect human rights and national security in an age of pervasive surveillance.
Also in the Security Theatre on Day 2
- Panel: 10:50am – 11:30am: "Why Staff Still Click: Employee Training and Cybersecurity Best Practices to Prevent Breaches"
Speakers:
Fay Godfree, Data Privacy Officer, Siemens Healthineers
Susanne Bitter, Digital Security GRC Analyst - Business Partner Security, BP
Robin Lennon Bylenga, Information Security Awareness, Education and Communications Lead, DWS Group
Adam Low, CTO, Zivver
- Panel: 15:05 – 15:45: "The Future of Cyber Security is Neurodiverse".
Speakers:
Jim Newman, Head of Cyber Security, Railsr
Purvi Kay, Head of Cyber Security Governance Risk and Compliance, BAE Systems
PrivSec London delivers these sessions and much more, exclusively at Park Plaza, Riverbank, London.
An unmissable opportunity for all data practitioners to get to the heart of the debate on Privacy and Security.
Date: Tuesday 28 Feb & Wednesday 1 March 2023
Click here to see the full agenda
Don't miss out – register your place today