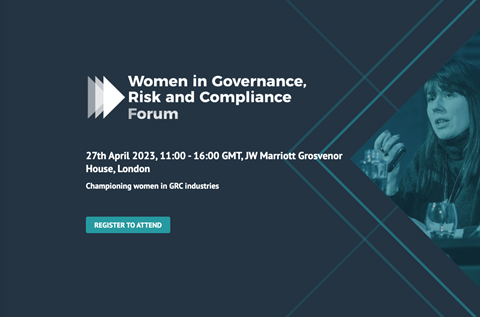 Taking place live at JW Marriott Grosvenor House, London on Thursday April 27, Women in GRC Forum shines a light on women leading the way in Governance, Risk and Compliance.
The Forum is free to attend, and comprises exclusive panel talks and interviews, with amazing female role models in the GRC space discussing issues such as gender diversity, women in leadership, cultures of equality, men as advocates, and much more.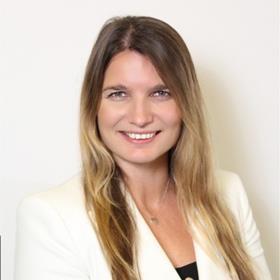 Natalie is a chief of staff at a global investment bank. An experienced compliance professional, Natalie has a proven track record of leading multi-business, multi-jurisdictional projects and facilitating strategic business transformation.
Natalie will appear at Women in GRC Forum to host a panel debate on how women and businesses can fully leverage women's talents in order to integrate equal opportunities, promote systematic change and retain gender diversity from the top.
We spoke with Natalie for more on her career so far, and for an introduction into the themes on the table at her Women in GRC Forum session.
The views expressed in this interview are Natalie's personal opinions.
Could you outline your career so far?
I had my first proper job in the post room of an insurance company when I was still at school, and my first internship before I started university.
My financial services career really started with an internship in investment banking during my university years, followed by joining the Financial Services Authority's graduate programme. Whilst at the FSA, I gained my chartered accountancy at night school, and then made a move into the banking industry via a stint in the Lloyds insurance market, first at an underwriter and then as the compliance and risk manager for a broker.
I have been with my current employer, a global investment bank, for close to a decade, acting in various regional and global management roles and specialties within Compliance.
My career has been fluid, spanning multiple regions and disciplines across esoteric areas such as client assets, monitoring, investment research and emerging risk management. Throughout it, I've led regional and global cross-enterprise projects tackling new compliance risks and regulation, including sustainable finance, social media use, marketing and complaints.
I've been the Chief of Staff to our institutional client's group's Chief Compliance Officer for the last two years, which has given me a unique platform to advocate for diversity and inclusion within our organisation and to influence senior decisions and discussions.
I'm currently on secondment which has once again taken my career in a new direction, this time financial crime related. Secondments have been a great way for me explore my career path without committing to wholesale change, and helped me both learn new skills and demonstrate versatility.
Flexibility and curiosity have been key to my career, but importantly, on multiple occasions someone nudged me towards a new role, and helped me see a connection that I wasn't able to see myself. The power of a 'nudge' from someone you respect, particularly a female role model, has been monumental to my career development.
What factors are preventing women from fully leveraging their talents and accessing roles higher up the corporate ladder?
The disproportionate opportunity cost facing women
Structural issues obstructing women's advancement in the workforce require continuing government action: merely setting quotas or aspirations for gender representation on boards without addressing the socio-economic factors that impact women's ability to participate in the workforce is ineffective and disingenuous.
Childcare reform in particular needs to solve the often-impossible choice disproportionately facing women and primary carers - whereby the cost of childcare is more expensive than the wage from working. The burden of household and childcare responsibilities still disproportionately falls on women.
Paternalistic thinking: assuming what women want and need
On a more micro level, anecdotal evidence suggests that women, particularly those who reach director level positions, often face challenges upon their return from maternity leave, with erroneous assumptions being made about their work preferences, commitments to management roles, capabilities or aspirations.
Managers need to avoid paternalistic thinking: taking decisions 'in the best interests' of women without verifying what they actually want, or need. This type of thinking for women often comes from embedded bias, and a tendency to view women as a homogenous group with similar needs and desires. Treating all women as the same and making assumptions about their preferences is limiting and counterproductive.
Entrenched gender and age biases
There are still biases in the way women are perceived, and these need to be better understood in order to be addressed. For example, a manager's gender or age bias may lead them to miscategorise humility, empathy or enthusiasm as a lack of ambition, a tendency to overvalue relationships, or a lack of technical skill, resulting in their failure to provide a woman with relevant advice to help her address her development blind spots.
Cultural resistance to tailoring feedback
Sometimes we simply cannot learn the lessons we need to learn to advance without someone taking the time to teach us. There have been instances in my career where I needed patience and advice to prepare for the next career step, but my manager did not invest in constructive feedback. In my lowest moments, this led to feelings of neglect, unimportance and isolation, which disrupted my confidence, motivation and ultimately my commitment to the firm.
These feelings have subsequently served a purpose: they helped me build empathy with a new generation of talent, and instilled in me a duty to make time to help those on the cusp of change in their careers, but culturally, there is more to do. Women are often praised for being 'self-starters', but they still need to be managed, especially through critical points of transition in their careers.
The anxiety of being 'different'
Negative self-talk can be particularly damaging for women, especially those who may not conform to the established norms of their workplace, or fear they do not fit in because of their personal values, appearance or attributes. This is not limited to gender, but the status quo has a natural bias against women, because it was built by and for male workers. It may be evolving, but that does not mean it is equitable.
What steps do organisations need to take in order to promote the start of systematic changes to improve the situation?
Promote organic and personalised coaching
Creating safe spaces for women to discuss their needs and aspirations for their career progression is well understood, but may not always be executed effectively. Firms often rely on structured mentoring or development programs to deliver support to their talent pools, and these can be done well and with authenticity, but they can risk being policy-driven and lacking in personalisation, resulting in flat and uninspired outcomes.
Coaching needs to be organic, and women may need to be coaxed into considering an opportunity. It is important to recognise that some women may be quietly ambitious or may not yet realise their own potential. They may need more time, or more targeted feedback to develop.
Recognise the fragility of career transition points
We must manage more carefully the transition point in a person's career where she moves from being praised for her individual performance, to needing to lead and manage others.
This is a critical juncture at which a woman may leave the firm if she is not given the tools to succeed. As she traverses an organisation, she needs a suite of tools to persuade and influence new stakeholders, and when she first becomes a manager, she needs to be prepared for the new responsibility, or she will be set up to fail.
That failure can be internalised and amplify self-doubt, imposter syndrome and negative self-talk. To combat this, leaders can relay their personal experiences and vulnerabilities can reassure women that it's okay not to be okay in moments of self-doubt.
Individuals at this transition point also need to be coached on the fact that opportunities must be sought out, not passively waited for, and those aspiring to leadership need to show ingenuity and value.
In this stage of her career, a woman moves from a state of informing others and seeking permission to act, to taking decisions, inspiring others, and rising above office gossip or personal grievances. She becomes someone who solves problems for others, and this change in mindset needs careful nurturing. Women need to know they will be supported and given the opportunity to pick themselves up when they get something wrong. Mistakes are still too often vilified instead of recognised as an essential part of learning.
No person is entitled to a promotion, but it is in a firm's best interest to nurture, support and guide their talent.
Think differently about management
It is ultimately the manager that plays a critical role in creating a supportive environment for women to thrive, and so it is for firms to take a hard look at whether their managers, particularly those entrenched at the mid-level of the organisation, are really up to the task.
Firms need to stop making excuses for managers who are technically exceptional, but uphold a culture of toxicity, bias and neglect. Being excellent at generating revenue does not necessarily equate to being a good manager.
Firms should consider creating senior roles that allow such individuals to excel as valued experts, not as managers, enabling our people managers to truly focus on the needs and development of their teams. Year-end goals should expressly hold managers to account for their team's development.
Culture at the top: put your money where your mouth is
It is no longer contentious to say that firms have a duty to encourage and promote women who challenge the status quo and bring fresh ideas to the table; it fosters innovation and drives organisational success.
Unfortunately, entrenched behaviours in a firm's established leaders, especially in its mid-tier management, can get in the way, and the individuals that should be creating a constructive space for thought leadership, contribution and decision-making instead become combative or resistant to change and ideas from perceived 'interlopers'.
Those leaders have a duty to do better: to listen to the new ideas that come their way, especially from women, rather than to shut them down. If employees constantly face barriers such as being talked over or having their ideas attributed to others, they will eventually remove themselves from the situation, and find a place to work that does value them. Firms with cultures that embrace change yield multiple benefits; a motivated diverse workforce is clearly one of them.
Personally, it is important to me to be relevant at a firm with a sincere and inclusive brand, where I feel respected for my passion, empowered in my ideas, and can pay forward what I've learned. I do not want superficial sound bites or a commitment to diversity that falls apart in times of stress. I want to matter, and I am not alone. In return, my firm will get the best of me.
Don't miss Natalie McManus-Barnett exploring these issues in depth at Women in GRC Forum as she hosts the session: "The Great Retention; Retaining Gender Diversity through to Senior Management Positions."
On the panel:
The session sits within a content-rich agenda of insight, ideas and guidance at Women in GRC Forum, taking place at JW Marriott Grosvenor House, London on Thursday April 27.
Click here to see the full Women in GRC Forum agenda
The Forum is part of the Women in Governance, Risk and Compliance Series, a community for women of all backgrounds and their peers to support, collaborate and encourage via a number of content initiatives that will take place throughout the year.
Details
Session: The Great Retention; Retaining Gender Diversity through to Senior Management Positions
Time: 11:00am – 11:45am
Date: Thursday April 27
Women in GRC is also available on-demand for global viewing.
Women in GRC Awards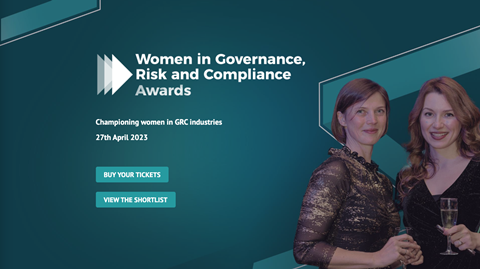 Following on from the daytime Women in GRC Forum, don't miss the Women in GRC Awards, taking place at 7:00pm at JW Marriott Grosvenor House.
The Women in GRC Awards is a ticket-only event, and brings together the 2022 finalists, judges, partners and special guests to celebrate and support women across GRC sectors.
Individual tickets include a drinks reception, three course meal with wine, entertainment and esteemed speakers, networking opportunities, an after-party invite, and more.