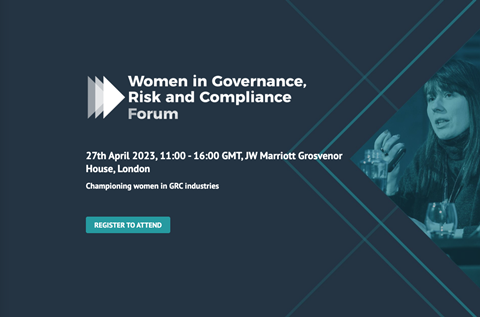 Taking place live at JW Marriott Grosvenor House, London on Thursday April 27, Women in GRC Forum shines a light on women leading the way in Governance, Risk and Compliance.
The Forum is free to attend, and comprises exclusive panel talks and interviews, with amazing female role models in the GRC space discussing issues such as gender diversity, women in leadership, cultures of equality, men as advocates, and much more.
Lauren is CEO and founder of Women of a Certain Stage, an organisation that partners with employers that are committed to their inclusion and belonging strategy, and who value their employees' emotional, physical and mental health.
Lauren will host Women in GRC Forum throughout the day. She will also lead a panel debate looking at how businesses and women can collaborate to maximise women's talents to promote equal opportunities, drive systematic change and generate better gender diversity from the C-suite down.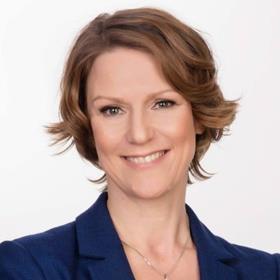 We spoke with Lauren for more on her professional journey to date, and for an introduction into the themes on the table at her Women in GRC Forum session.
Could you outline your career pathway so far?
Throughout my career, I've embraced a portfolio approach, exploring various industries and roles. I embarked on my journey early, enrolling in university at the age of 16. Whilst originally being accepted to read double maths & computing, I actually graduated in psychology!
My post-grad was in hospitality, which led to me entering the workforce in that field. However, my professional path took a different turn as I ventured into the services industry and held senior positions for over a decade into my late 20s. Next, I decided to pursue a new direction by becoming a personal trainer, sports therapist and nutritional advisor. I established a health and wellbeing practice, and I had the privilege of working with renowned celebrities such as Dustin Hoffman, Anastasia, England rugby team players, and the RFU leading up to the 2003 World Cup in Australia.
Due to personal circumstances, I chose to transition back into the corporate world, where I took on roles in global transformation programmes for major financial services companies. I progressed swiftly into senior leadership roles, primarily focusing on regulatory compliance.
I found immense joy in simplifying complex regulations into digestible pieces for my teams and stakeholders. However, life took an unexpected turn in my early 40s, when, after a period of 18 months of thinking I had early onset dementia, I left my job for fear of being seen as incapable, weak or vulnerable. I had simply gone through a premature menopause! This realisation prompted me to take action.
Since then, I have founded an organisation called Women of a Certain Stage, which collaborates with employers to create menopause-savvy and supportive workplaces. While raising awareness about menopause is crucial, I believe that providing practical tools and support is equally vital for individuals navigating this phase of life, as well as for those who are supporting them. This has been a turning point in my career, as it has highlighted the additional burdens that women carry in the workplace due to various biological experiences such as periods, fertility, pregnancy, miscarriage, and menopause. These experiences require extra thought, planning, and involvement, which often go unnoticed.
Over the past decade, one fact has struck me deeply: the burdens that women carry due to our biological experiences, how we have to consider our personal safety and the way in which we are expected to present ourselves in the workplace.
We can get weighed down by all of these additional responsibilities, before the work day even starts - just to get to the starting point someone who doesn't identify as a woman might. The workplace has largely been designed by and for men, and there is no criticism of that. However, the dynamics of the working environment need to evolve as the demographics of those working in it change. It is crucial that we start considering everyone as human beings, and create a working environment where we all feel truly supported. It is time to recognise and address the unique challenges, needs and immense value that women bring to the workplace, and foster an inclusive environment where everyone can thrive.
What factors are preventing women from fully leveraging their talents and accessing roles higher up the corporate ladder?
Starting in schools, one of the key factors in empowering young, talented girls is ensuring they have the right confidence levels as they prepare for exams or further education, and as they enter their first roles in the workforce.
Education plays a crucial role in instilling in them the belief that they can achieve anything they set their minds to, and that all possibilities are open to them. It is also important for them to understand their bodies and what constitutes a normal menstrual cycle, so that they can seek help and support when needed, and not let their natural biological processes hinder their progress. This understanding should continue throughout their entire career journey.
In recent times, we have seen a rise in empowered young women, as well as those who identify as non-binary, gender questioning, and transgender, who are increasingly bold and assertive in demanding a workplace environment and conditions that allow them to thrive. Just last week, I was at a gender pay gap event in Westminster, and I was celebrating the level of confidence my younger colleagues rightfully expect; a workplace that provides them with equal opportunities without discrimination.
It was truly fascinating to listen to various speakers discussing the significant amount of thought and effort that women put into preparing for the workplace. From considering their attire and whether it's appropriate, including everything from their shoes to the length of their tops and bottoms, to navigating monthly cycles, women often have additional considerations to manage.
This includes tracking their predictable or unpredictable menstrual cycles, ensuring access to sanitary products, and understanding the impact of hormonal fluctuations on their performance. Unfortunately, these factors can sometimes be used against them, resulting in unfair leveraging of their talent or access to roles. The reality is that with a small amount of knowledge, this is actually a huge advantage!
Empowerment involves learning to ask for what we want and need. It is important to recognise that it is perfectly acceptable to ask for help, support, and accommodations at work. Additionally, seeking out sponsorship and mentorship from colleagues, whether they are more senior or peers, is crucial for career growth. Building and nurturing relationships with influential individuals can have a significant impact on one's career trajectory, as they can provide opportunities, elevate one's work portfolio, and keep them in the conversation when career progression is being discussed and they are not personally present.
You never know who you may work with in the future, or where your career may take you, and having sponsorship from senior team members who can advocate for you and elevate your work portfolio is crucial in career advancement.
By promoting a culture of mutual support, we can foster an environment where everyone, regardless of gender, can thrive and reach their full potential.
What steps do organisations need to take in order to promote the start of systematic changes to improve the situation?
As someone who is deeply invested in creating a positive work environment that caters to individuals with various responsibilities and needs, such as monthly cycles and menopause, I believe that a holistic approach to the entire colleague journey is vital.
This should start at job design, through recruitment, onboarding, all the way through to exit, ensuring the language and actions used demonstrate inclusivity.
While some organisations may have specific policies or guidance documents for menopause or period-related issues, overarching well-being policies that treat everyone as human beings are equally effective. The goal is to provide equal opportunities to all colleagues based on their skills, knowledge, and experience, regardless of any life changes they may be going through.
This approach acknowledges the diverse range of expertise and experiences that individuals bring to the workplace, making it more inclusive and balanced. In addition to policy considerations, the physical work environment also plays a crucial role in creating a supportive workplace.
Having spaces where employees can rest, take a moment to compose themselves, or even change clothes if needed, can greatly contribute to their well-being. Creating a culture where it is acceptable to turn off cameras in meetings or step out of a room for a moment without having to disclose personal reasons, such as menopause, can also foster a more inclusive and supportive environment for everyone.
It is crucial to create a workplace culture that acknowledges and supports the well-being and performance of all employees, regardless of their gender or life stage.
I am currently flabbergasted at how many former colleagues of mine are getting stressed, because they've struck a really good work / life balance through hybrid working, and yet they're being called back into the workplace four to five days per week. It absolutely defies logic to me that any organisation – especially organisations whose performance have increased over the last three years – are now mandating more time to be spent in the office.
Such a decision can create challenges for commuting, caregiving responsibilities, and other personal circumstances that employees may face. As we continue to navigate the ongoing pandemic, it is important for organisations to be flexible and considerate of the diverse needs of their employees.
Let's all treat each other as skilled, knowledgeable and valuable adults.
Don't miss Lauren Chiren exploring these issues in depth at Women in GRC Forum as she hosts the panel session: "The Great Retention; Retaining Gender Diversity through to Senior Management Positions."
On the panel:
Monica Stancu, Diversity and Inclusion manager, Lloyds
Natalie McManus-Barnett, Chief of Staff, Institutional Clients Group Independent Compliance Risk Management, Citi
Yinka Fadina, Head of Audit, Retail - COO & Everyday Banking, NatWest Group
Hannah Lilley, Principal, BI Europe - Compliance, Forensics & Intelligence, Control Risks
The session sits within a content-rich agenda of insight, ideas and guidance at Women in GRC Forum, taking place at JW Marriott Grosvenor House, London on Thursday April 27.
Click here to see the full Women in GRC Forum agenda
The Forum is part of the Women in Governance, Risk and Compliance Series, a community for women of all backgrounds and their peers to support, collaborate and encourage via a number of content initiatives that will take place throughout the year.
Details
Session: The Great Retention; Retaining Gender Diversity through to Senior Management Positions
Time: 11:00am – 11:45am
Date: Thursday April 27
Women in GRC Awards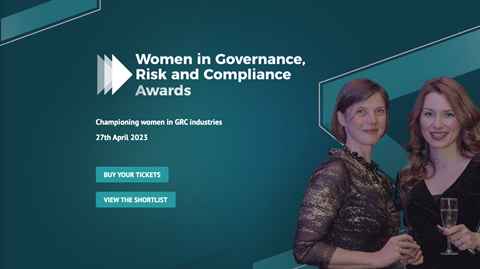 Following on from the daytime Women in GRC Forum, don't miss the Women in GRC Awards, taking place at 7:00pm at JW Marriott Grosvenor House.
The Women in GRC Awards is a ticket-only event, and brings together the 2022 finalists, judges, partners and special guests to celebrate and support women across GRC sectors.
Individual tickets include a drinks reception, three course meal with wine, entertainment and esteemed speakers, networking opportunities, an after-party invite, and more.