Third-party risk management doesn't end when you sign the contract to onboard a new vendor or service. As regulations evolve, market conditions change and unforeseen circumstances take effect, it's important to keep tabs on your vendor population to make sure risk hasn't creeped back into your organization. Ongoing vendor monitoring is just as critical as pre-contract due diligence, but many organizations struggle to keep pace with a vendor population that only gets larger and larger each year.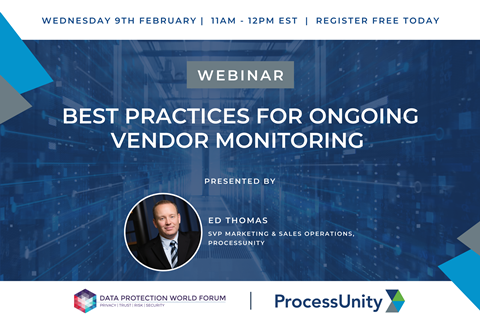 Webinar Summary:
Wednesday 9th February
Event Timings:
GMT: 4pm - 5pm
EST: 11am - 12pm
Join ProcessUnity for expert advice on how to build a world-class, post-contract vendor monitoring engine. We'll offer practical tips to assess more vendors, more thoroughly on a schedule that makes sense for your company.
Attendees will learn how to:
- Design review cadences using inherent risk calculations
- Properly scope due diligence based on vendor criticality
- Incorporate expert ratings into review processes
- Improve vendor response rates, times and quality
- Integrate vendor service reviews with assessment processes
- Prepare contingency plans for unforeseen situations
- And more…
Don't miss your chance to up-level your processes for post-contract due diligence. Reserve your seat today.
Meet the Speaker:
Ed Thomas
SVP Marketing & Sales Operations, ProcessUnity
Ed Thomas leads ProcessUnity's marketing team and is responsible for the company's awareness, demand generation and thought-leadership programs. In his marketing and sales operations roles at ProcessUnity, Cura Software Solutions and OpenPages (now IBM), Ed has helped hundreds of organizations streamline their risk and compliance programs using next-generation automation tools.