Taking place on 29th June 2023, at the Royal Lancaster London, the Diversity, Equity & Inclusion in Tech Awards will bring together employees of all backgrounds and career levels within the technology industry, with the shared aim of creating a supportive ecosystem and championing equality across the workforce.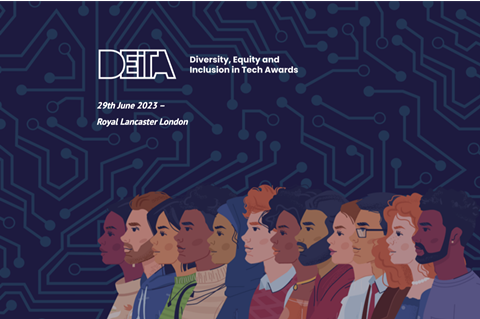 The Diversity, Equity & Inclusion in Tech Awards will be the go-to community to enhance DEI across the technology sector; allowing collaborative engagement in a space specifically created to support and open the door for the next generation of diverse leaders.
The awards categories will honour senior technology business leaders, key decision makers and changemakers in HR and D&I roles helping the technology industry to thrive.
Categories include:
and more…
The Diversity, Equity & Inclusion in Tech Awards will look to provide a safe and supportive space for like-minded individuals to collaborate, support and champion the differences that make us unique, and ultimately help businesses to thrive.
→ Get involved today – start your free application here.
Brought to you by GRC World Forums, the team behind #RISK and the Women in Governance, Risk and Compliance Series.

The statistics cannot be ignored
In McKinsey's Diversity Matters report, they found that companies with high levels of ethnic and cultural diversity were 33 per cent more likely to outperform their competitors. And according to a CIPD report, around 14 percent of the UK working age population come from a black, Asian and minority ethnic backgrounds, and by 2030, it is expected that the proportion will be closer to 20 percent
However, the same report shows that significantly more black, Asian and minority ethnic backgrounds employees overall (40%) say their career to date has failed to meet their expectations in comparison to those who identify as white British (31%).
Similar research shows that LGBTQ+ employees are struggling with work in this pandemic world, moreso that their straight and cisgender peers. In fact, LGBTQ+ respondents were 1.4 times as likely to cite acute challenges when it comes to workload increases, loss of workplace connectivity and a sense of belonging.
And in the UK specifically, BEIS Analysis shows that if ethnic minority individuals were given full representation within the workforce, the labour market would reap benefits to the tune of £24 billion.
Furthermore, research by Accenture has indicated that 77% of employees and 80% of leaders with disabilities choose not to be transparent about their disability at work.
In 2022, these statistics simply cannot be ignored.
The only way to pave the way for change when it comes to diversity, equity and inclusion in technology is to engage employees at all levels and backgrounds to work together as equals and to collaborate and support each other.
A diverse workforce is simply a good workforce
We have made it our mission to create a platform for diversity, equity and inclusion to be recognised, celebrated and encouraged, and this is your opportunity to help set the precedent and be part of the change, showing your workforce through action that equality matters.
The series will give you the opportunity to:
Change the world of technology
Champion the diverse workforce
Become a thought leader
Collaborate with peer
Support the next generation
Celebrate DEI in Technology