In our first reader-submitted Q&A, Tamás Kádár explains how cyber attacks led him to develop his own anti-fraud solution
What is your full job title?
Tamas Kadar, CEO and Co-founder, SEON Technologies
How long have you worked in the industry?
I've worked in technology and software development for more than 10 years. However, I've worked in fraud prevention specifically ever since I co-founded SEON with my close friend and co-founder, Bence Jendruszak in 2017.
How long have you worked in your current role?
I've been in this current role since we formed SEON in 2017.
How did you get into your current role?
I started SEON with my close friend and partner, Bence. We met at university in Budapest and bonded over our shared interest in cryptocurrencies.
Our first project together was a crypto exchange for the CEE region but unfortunately, we were soon the target of constant attacks from fraudsters. After trying several fraud prevention solutions, we realized that we could build a better one ourselves. So, we did and we've never looked back.
What does a typical day look like?
A typical day in my life as CEO at SEON includes regular interaction with the other company executives, keeping a close eye on the business flows and dealing with all client requests or questions.
Given the nature of our businesses we must ensure our compliance knowledge and expertise is always second to none. That means addressing all compliance questions that arise to ensure a seamless service for our customers.
Our customers expect a lot from us but likewise we like to challenge our customers to test us to be the best we can be. We monitor our clients' requests very closely to help make modifications and improve our offering all the time.
Elsewhere, we pride ourselves on our team. It is our job at the top to lead from the front and that involves a passionate, expert workforce following on behind. Therefore, we work closely with our staff to ensure they have the best environment possible with which to flourish.
What is your greatest achievement so far?
I consider what we are doing at SEON as my biggest achievement so far. SEON is now one of the rare start-ups to be profitable only two years after launch, tripling year on year gross revenue and with 95% inbound. Why? Because we have created a business so relevant to the way we live our business and personal lives today.
We are not afraid to confront an industry that we believe to be failing, and our approach has proven to work. But we see it as only the beginning.
What is the most challenging thing about your role?
There are many challenges associated with running a successful start-up. Personally, I enjoy overcoming the pressures of running business & IT operations at the same time. When you see the results it is very fulfilling. But this is based on making the right decisions on the information and data available.
I enjoy the challenge of guiding our incredible fraud fighting team at SEON. But if you stand still then you are not moving forward so we always have an eye on the market to try and secure the best talent possible to add into the SEON family. This is a big part of our mission to continuously improve our overall offering to our customers.
What part of your role do you enjoy the most?
Quite simply I enjoy it all. For us it has never just been about providing a technology solution and creating a successful business. Since our idea for SEON was born it was always about putting the urgency back into fighting fraud – to motivate individuals and businesses of all sizes to combat fraud with the same diligence and commitment as fraudsters display. This fight is what I enjoy every single day.
How do you see your role/industry changing in the next few years?
As we head into the new normal, so too must the fraud industry.
Merchants need new and effective ways to combat cybercrime as the online environment undergoes this period of rapid transformation. Many businesses will be relying on solutions being flexible, easy to use and that can be quickly integrated into their business structure. We believe that SEON is best placed to react to this ever-changing environment.
Would you recommend working in this role, please give your reasons?
The fulfillment I feel every day makes everything worthwhile. But to get to this stage has taken a lot of hard work and sacrifice. So, I would recommend this to someone that is willing to go the extra mile to make their dream and passion for improving the world work. If you do that then the rewards are endless.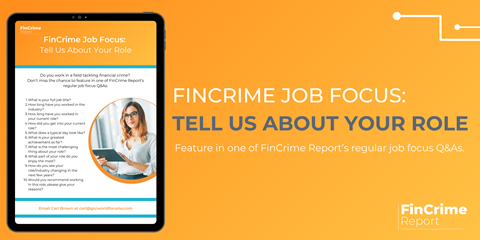 Do you work in a field tackling financial crime? Don't miss the chance to feature in one of Fincrime Report's regular job focus Q&As.
We are looking for people who work in AML/CTF, fraud detection, threat intelligence and related legal and regulatory fields across a range of industries to tell us about their everyday job.
Just fill in a short Q&A (see questions above) and submit a photograph to be considered for inclusion. We want to feature people of all levels of seniority.
If you want to take part, email Carl Brown at carl@grcworldforums.com