You can't ignore the headlines. We have seen that any organisation, at any time, can suffer a cybersecurity attack, resulting in a devastating data breach. It's a question of "when" rather than "If".
Webinar Summary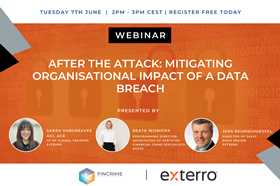 Tuesday 7th June
Event Timings:
CEST: 2pm - 3pm
IT pros are well aware that even the most sophisticated defences can be overturned by human error or malicious internal actions. Beyond the endpoint security, firewalls and other protective mechanisms that they have already set up, they need to seek out additional ways to bolster their network defences.
An important element of recovering from a cybersecurity incident is having in place a coordinated process for analysing, reporting, and remediating as quickly as possible after the attack. But manual investigations involve too much time and too many variables to constitute an adequate post-breach strategy.
Factors such as these, plus the need to gather data in a manner that will be defensible in a court of law, has given rise to fast-growing demand for robust post-breach response tools. And this is where digital forensic tools come in. Join our panel of experts to learn more.
Meet the Speakers:
Sarah Hargreaves
ACI, ACEVP of Global Training, Exterro
Sarah started her career in digital forensics in 2003. Previously working in a criminal law practice, Sarah moved over to forensics after working on a number of investigations which inspired her to change career path. Her journey continued with a number of roles in Digital Forensic Laboratories, primarily supporting law enforcement in Child Sexual Exploitation investigation and general crime. Sarah progressed to Laboratory Management and later into Training Management.
Sarah is experienced in digital investigation, laboratory management, ISO17025 and evidential process. Sarah lives in the North West of England and is a mum to two young children. She enjoys days out with her family and travelling.
Jens Reumschuessel
Director of Sales DACH Region, Exterro
Jens Reumschüssel is Director of Sales Public Sector DACH at Exterro, the leading provider of legal GRC software solutions. He has decades of experience in B2B (business-to-business) and B2G (business-to-government) sales and has deepened his focus on digital forensics over the last years. Jens is passionate about helping law enforcement, government agencies, enterprises and service providers fulfill their unique data collection and analysis missions through the use of cutting-edge technologies, including cloud technology and artificial intelligence.
Beata Wisnicka
Programming Director, Association of Certified Financial Crime Specialists, ACFCS
Beata Wisnicka is the most recognizable person in the areas of AML and cryptocurrency risk management in Poland. A speaker at many financial and banking conferences, for example at the Conference on "Counteracting Money Laundering in Banking Systems" for all Units of the Central Investigation Bureau of the Police of the European Union. Speaker at the Copernican Digital Forum 2020 with the participation of 8,000 viewers. Mentor in the Shesnnovation program - Perspektywy Women in Tech. Guest in Compliance Time Podcast, episode 12 "Share the knowledge". Over 1,000 training participants, including the Cryptocurrency Bank from Switzerland - Falcon Bank or HSBC in London.Approximately $ 300,000,000 worth of cryptocurrency projects were managed. Beata creates AML procedures, processes, and policies for Cryptocurrency Exchanges. He supports Fintechs in AML processes and in obtaining KIP licenses.Professional experience and cooperation with many obligated institutions allowed her to thoroughly analyze and evaluate global AML systems, and thus develop an innovative approach to the effective implementation of processes.The most important thing in her daily work is to protect people who are victims of money laundering and terrorist financing, which is why she set up her YouTube channel, where she educates people for free, "How not to get scammed".