In this webinar, our threat intelligence team share some of the latest threats and trends they've uncovered, including cryptocurrency scams exploiting Ukrainian donation appeals, LinkedIn impersonation emails targeting job hunters, and zero-day exploits circulating on the dark web.
Webinar Summary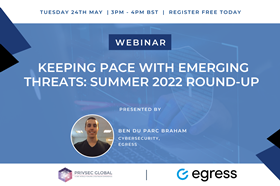 Tuesday 24th May
Event Timings:
ET: 10am - 11am
BST: 3pm - 4pm
CEST: 4pm - 5pm
We'll explore the recent tactics cybercriminals are using and expose the warning signs your organization needs to stay aware of. Speakers will offer advice on how to keep up to date with the threat landscape, as well as the steps businesses should take to protect employees, customers, and their overall brand from sophisticated cyberattacks.
In this timely webinar, Ben du Parc Braham will discuss:
- The sophistication of modern threats
- Ukraine cryptocurrency donation scams
- LinkedIn impersonation emails
- Sextortion phishing
- Zero-day exploits
- Keeping pace with the threat landscape
Meet the Speaker
Ben du Parc Braham
Cybersecurity, Egress
Ben has always been interested in computers, regularly getting into trouble at school and university for hacking/bypassing security systems.
Ben stumbled into his cyber career when, while working as a prison officer, he uncovered security flaws in the prison's computer system. He then moved to Cheltenham for more advanced cyber security opportunities where he joined tech startup Aquilai.
Working with Aquilai, Ben refined his malicious talents and began working on machine learning models to detect unusual behavior and signs of cyber-attack. Egress subsequently acquired Aquilai and Ben has risen to oversee efficacy for the product Egress Defend and now spends his time gathering intelligence on the dark web, researching, and creating new zero-day exploits, as well as frustrating cyber criminals by incorporating these new techniques into Egress suite of products.