#RISK is where the whole 'risk' community comes together to meet, debate, and learn, to break down silos and improve decision-making.
Risk is now everyone's business and business leaders need to be tech-savvy and understand how GRC technology fits into the business strategy as well as solving regulatory challenges.
With over 150+ exhibitors, keynote presentations from OVER 300+ experts and thought leaders, panel discussions and breakout sessions #RISK will be the largest gathering of its kind in 2023.
"#RISK is such an important event as it looks at the broad perspective or risk. Risks are now more interconnected and the risk environment is bigger than ever before." Michael Rasmussen, GRC Analyst & Pundit, GRC 20/20 Research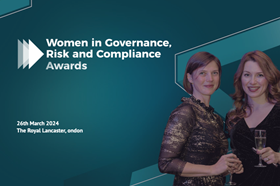 The Women in Governance, Risk and Compliance Awards honour female leaders and companies demonstrating excellence across GRC.
The Women in Governance, Risk and Compliance Awards will recognise, celebrate and support women across GRC sectors, champion their peers and advocates, and help foster the next generation of GRC business leaders.
Websites
We are not responsible for the content of external sites