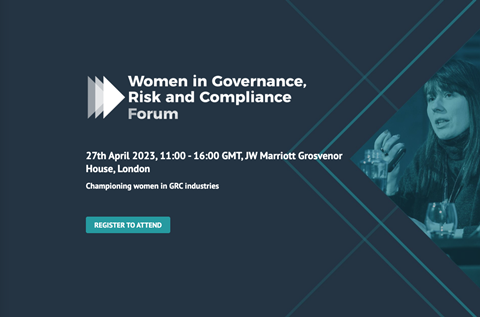 Taking place live at JW Marriott Grosvenor House, London on Thursday April 27, Women in GRC Forum shines a light on women leading the way in Governance, Risk and Compliance.
The Forum is free to attend, and comprises exclusive panel talks and interviews, with amazing female role models in the GRC space discussing issues such as gender diversity, women in leadership, cultures of equality, men as advocates, and much more.
Cornelia Baciu-Fiorenzano is Ethics and Compliance Manager at Johnson Matthey. In her career spanning ten years, she has accrued expertise in due diligence, human rights, third-party management, and whistleblower management.
Cornelia will appear at Women in GRC Forum to discuss the role of women in the UK tech sector, and how industries can attract more female GRC leaders to the workplace.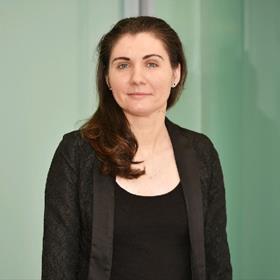 We spoke with Cornelia for more on her career so far, and for an introduction into the themes on the table at her Women in GRC Forum session.
Could you outline your professional journey to date?
My career started in consulting, joining Deloitte shortly after I have graduated. I have trained there not as an accountant but as a forensic professional and investigator, guiding clients in a variety of industries through the challenges of hiring the right individuals in high profile positions. The role has also involved investigating bribery and corruption allegations within companies, or managing reputational issues in their overall value chain.
After nine years at Deloitte, I decided to explore the Ethics and Compliance space in less regulated sectors and I have joined Johnson Matthey, a manufacturer, refiner and research and development UK headquartered company with operations in over 30 countries.
Here, I am the Ethics and Compliance Manager looking into bringing technology and enhancements to traditional compliance elements like TPRM and leading the operationalisation of newer compliance initiatives in the ESG space for example Human Rights.
Could you outline the reasons why just 19% of people working in the UK tech sector are women, according to Tech Nation data?
The number of women working in tech or adjacent tech sectors for GRC like tech compliance is low for various reasons varying from primary education to actual real job opportunities in the UK.
There are some good initiatives and programs encouraging women to get into tech, but I believe uptake is still low to make an impact on the job market.
I will also incline to think that due to recent developments in the news relating to the tech market – layoffs, concerns about the tech environment fostering the best work life balance and allegations about misconducts – there might be genuine concerns from some women about suitability of the tech sector for their future.
Why is this a problem, and what steps should industry leaders and organisations alike take to start addressing the imbalance?
Looking forward, we will need to encourage young girls to get into tech, speak with tech leaders to recruit more consciously and foster the development of women talent up to the Board Level and my hope is that in the coming years we will see more women in this sector.
GRC in general, and Ethics and Compliance departments in particular need more and more individuals with a variety of skills, including technology. You do not need to be a software engineer or super techy, however; you can land a job involving technology in Ethics and Compliance.
And you can learn so much and so quickly from amazing individuals and companies as this sector is very busy in terms of tech. Technology has always been on my work radar but it has also become a passion outside work. I am convinced that without tech, our sector does not come to life to outsiders!
Don't miss Cornelia Baciu-Fiorenzano exploring these issues in depth at Women in GRC Forum in her session: "Attracting the Female GRC Leaders of Tomorrow"
Host: Patricia González Ulecia Blanco Soler, Lead Privacy Counsel, Logitech
Also on the panel:
Nina Bryant, Senior Management Director, FTI Consulting
Jonathan Craven, Privacy and Compliance Lead, UK/EU, iRhythm Technologies Ltd
Rachel Woolley, Head of Financial Crime Regulation, Palantir Technologies
The session sits within a content-rich agenda of insight, ideas and guidance at Women in GRC Forum, taking place at JW Marriott Grosvenor House, London on Thursday April 27.
Click here to see the full Women in GRC Forum agenda
The Forum is part of the Women in Governance, Risk and Compliance Series, a community for women of all backgrounds and their peers to support, collaborate and encourage via a number of content initiatives that will take place throughout the year.
Details
Session: Attracting the Female GRC Leaders of Tomorrow
Time: 15:25 – 16:10
Date: Thursday April 27
Women in GRC is also available on-demand for global viewing.
Women in GRC Awards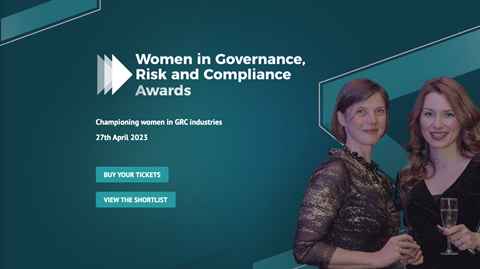 Following on from the daytime Women in GRC Forum, don't miss the Women in GRC Awards, taking place at 7:00pm at JW Marriott Grosvenor House.
The Women in GRC Awards is a ticket-only event, and brings together the 2022 finalists, judges, partners and special guests to celebrate and support women across GRC sectors.
Individual tickets include a drinks reception, three course meal with wine, entertainment and esteemed speakers, networking opportunities, an after-party invite, and more.