In our latest reader-submitted Q&A, Ellison Anne Williams explains how she has worked to make homomorphic encryption commercially practical for anti-money laundering and data protection
What is your full job title?
I am the founder and CEO of Enveil, a pioneering data security company focused on protecting Data in Use to enable secure search, sharing, and collaboration.
How long have you worked in the industry?
As a PhD mathematician, I spent the first decade plus of my career working in the areas of large-scale analytics and information security in the government space.
I founded Enveil to advance and commercialise some of the technology breakthroughs involving a type of Privacy Enhancing Technology called homomorphic encryption (HE). HE allows data to be used or processed while it remains encrypted — the 'holy grail' of encryption. Fundamentally, HE isn't making something better; it's making something entirely new possible.
We have been leveraging our solutions for financial services use cases for about two years now, with a specific focus on the value delivered for AML/KYC.
Our technology allows analysts at financial institutions to securely derive insights, cross-match, and search third-party data assets without ever revealing the contents of the search itself or compromising the security or ownership of the underlying data.
How long have you worked in your current role?
I founded Enveil four years ago and have served as CEO since the beginning.
How did you get into your current role?
When I originally began working with homomorphic encryption (HE) in the government, many of the use cases involved being able to perform trusted compute in untrusted, third-party data locations.
I knew the technology could have a transformational impact in the commercial space as well in areas such as secure data collaboration, secure data monetisation, and secure cloud processing. While HE has long been a topic of academic research, it had been thought to be too slow, bulky, and expensive for business use.
Our technology advances broke through that computational barrier, bringing HE from the realm of theoretical to commercially practical.
What does a typical day look like?
There is no such thing as a typical day for a startup CEO — which is why I love it.
I spend a good amount of time each day with my team and ongoing customer engagements as well as looking ahead at the use cases and verticals that we're most likely to take on next. And while we have a fantastic team of engineers, I also like to stay connected to my roots as a technologist through a continued involvement in the development and roadmap for our products.
What is your greatest achievement so far?
From a professional perspective, starting this company was the realisation of a dream I've had since childhood.
I've always been an entrepreneur at heart and running my own company is something I have long aspired to accomplish. And while my younger self might have been surprised that this is the exact lane we ended up in, I couldn't be happier to be at the forefront of bringing this transformational technology to market.
What is the most challenging thing about your role?
The most challenging (and interesting) part of my role is helping businesses embrace and understand the transformational power of Privacy Enhancing Technologies.
Customer needs are constantly evolving, as are regulations, priorities, and the broader global business climate. There has been a seismic shift in the global privacy market over the past several years as we've seen accelerating regulations and a growth in consumer understanding.
Businesses are looking for sustainable ways to keep up with it all, driving a growing interest in Privacy Enhancing Technologies which can enable organisations to perform critical business functions while ensuring the privacy and security of sensitive data assets.
Since our technology isn't making something better, it's making something entirely new possible, our initial interactions with financial institutions begin with some education on this technology category and how it can help them securely share and collaborate with third parties or across privacy jurisdictions.
What part of your role do you enjoy the most?
I like digging into the challenges our customers are facing and figuring out how best we can help. Financial services is such a fast-moving market and it's impressive to see a willingness to embrace new technologies that can provide more security and efficiency which will ultimately lead to better customer experiences. We're excited to be playing a role in these evolving changes and look forward to expanding to more inter- and intra-bank use cases in the months/years ahead.
How do you see your role/industry changing in the next few years?
Despite the increasing regulations we've seen put in place in recent years, we are only now seeing the tip of the privacy iceberg. Consumers expect financial institutions to protect and control how their sensitive data assets will be viewed and shared — especially when it involves third parties.
This will lead organisations to expand their privacy preserving and enhancing capabilities, and Privacy Enhancing Technologies will be a foundational element of these privacy and security strategies. We'll also continue to see these efforts led by cross-functional teams representing the risk, privacy, and security interests within an organisation.
Would you recommend working in this role, please give your reasons?
I'm lucky to love what I do so I wouldn't hesitate in encouraging someone with a similar dream to go for it. There is a deep satisfaction in addressing a problem in a way that makes people rethink how business has always been done.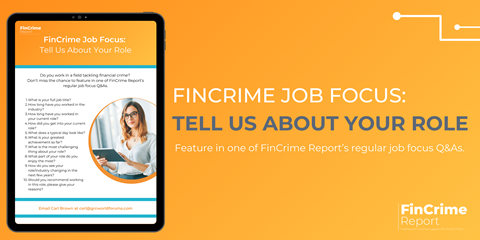 Do you work in a field tackling financial crime? Don't miss the chance to feature in one of Fincrime Report's regular job focus Q&As.
We are looking for people who work in AML/CTF, fraud detection, threat intelligence and related legal and regulatory fields across a range of industries to tell us about their everyday job.
Just fill in a short Q&A and submit a photograph to be considered for inclusion. We want to feature people of all levels of seniority.
If you want to take part, email Carl Brown at carl@grcworldforums.com