Ransomware has been blasting news feeds on a daily basis for years. Each article details the story of an organisation that can no longer access their business critical data. Where the attackers have crippled their victims by encrypting access to production files and storage devices. Whilst cyber security teams have invested in a myriad of protection tools, extortionists continue to find new mechanisms to encrypt organisations' data.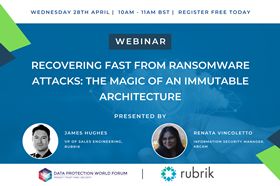 WEBINAR SUMMARY
Wednesday 28th April
Event Timings:
BST: 10am - 11am
WET: 11am - 12pm
Backups are one of the most – if not the most – important defense against ransomware. But if subject to corruption, attackers will use it against you.
Advanced ransomware is now targeting backups – modifying or completely wiping them out – eliminating your last line of defense and driving large ransom payouts.
Rubrik's uniquely immutable filesystem natively prevents unauthorised access or deletion of backups, allowing IT teams to quickly restore to the most recent clean state with minimal business disruption.
Join this webinar to hear how Rubrik's one-of-a-kind immutable architecture and robust security controls will protect your data from cyber attacks.
In this webinar these are the key takeaway points for the audience:
- Strengthen your ransomware response strategy by increasing visibility into the scope of attack.
- Quickly pinpoint which applications and files were impacted and where they reside to further minimise business impact.
- Ensure minimal downtime of critical services.
- Choose a product with a truly immutable architecture to give you peace of mind.
Format: 45 minute presentation, 15 minute live audience Q&A
Meet The Speakers
James Hughes
VP of Sales Engineering, Rubrik
James Hughes is VP of Sales Engineering at Rubrik and formerly a field CTO focusing on our global enterprises. James joins us from Schroders where he was Global Head of Infrastructure & Shared Services Technology. As a technology executive, he was responsible for their complete infrastructure transformation, building the global team, changing the operating models, leading DevOps & Agile, cloud adoption, automation and building a code-driven infrastructure. There he changed the user experience & perception of technology by building a platform which allowed global users to work from anywhere. Coupled with this were new channels to get insight & data, get new technology and support adopting a more Amazon & Apple approach to tech, rather than traditional financial services. Previously he was Head of Production Services at Premium Credit, VP of Infrastructure at PIMCO and Head of Central IT for Investec Bank Plc.
He is a Chartered Information Technology Professional with the British Computer Society and board member of various governance & standards bodies.
Renata Vincoletto
Information Security Manager, Abcam
Renata is a passionate IT and Cyber Security advocate with 20 years of experience, working with different industry segments, from SMB to multinational companies, charities and for-profit companies, emphasising information security, network administration, team/department management, IT administration and delivery, quality of services, project and budget management, creation and review of IT security policies and risk analysis.