In our latest reader-submitted Q&A, Neil Downing talks about developing new products in a changing industry
In our latest reader-submitted Q&A, Neil Downing talks about developing new products in a changing industry
What is your full job title?
Vice-President, Products
How long have you worked in the industry?
More than 20 years in telecoms, two years in this specific area of mobile number intelligence.
How long have you worked in your current role?
Two years
How did you get into your current role?
I have a background in product management, in taking new products to market and helping organisations evolve. It was well placed for TMT Analysis, which is moving into a new market with a new product, Verify, specialising in digital identity and fraud prevention.
What does a typical day look like?
Overall, the great thing about product management is that you get to touch so many parts of the business. Whether it's working with sales and interacting with customers and potential customers, working with marketing to help define and explain our proposition, engineering to define and implement our product roadmap or operations to understand where we need to improve things.
Add in a sprinkle of finance to understand the costs, prices and margins and that's a fairly typical day. It's important to read around the news and what's going on in the industry, to make sure we're always up-to-date with the industry trends.
What is your greatest achievement so far?
Getting our first TMT Verify customer to 'sign on the dotted line' it's a vindication that you have a product that people need and adds value to their business.
What is the most challenging thing about your role?
The most challenging thing is balancing all of the different day to day elements, almost everybody needs something from you all of the time, and you need things from almost everybody else. Sometimes it's hard to concentrate on any one task for all of the other noise.
What part of your role do you enjoy the most?
Talking to customers and potential customers. You can theorise all you like about what is happening and what the industry needs but there is no substitute for hearing it direct, and of course interacting with people from potentially all around the World is always interesting.
How do you see your role/industry changing in the next few years?
The industry is changing enormously and will continue to do so for the foreseeable future. Everyone is starting to see digital identity as an essential part of society in the future, we can't keep using decades old physical methods to define who we are in a world where we can do so much online – there is a lot of catching up still to do!
In terms of my role, over time when a product becomes more established the job of a product manager becomes more about industrialising it, making sure that processes are low-friction and fit-for-purpose, making sure that support is as good as it can be and understanding costs to the nth degree to ensure the best financial outcomes we can get for the company.
Would you recommend working in this role, please give your reasons?
I would absolutely recommend it. Product management is a really great role for anyone who has an interest in the end customer, what they need and why they need it, and you get to experience almost every discipline that a business needs in order to function.
I'd also recommend changing industry focus once in a while, trying to develop a product at the same time as the industry around it is developing is a unique but fascinating challenge!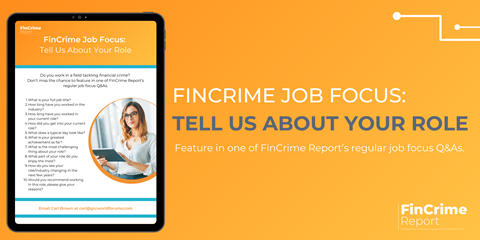 Do you work in a field tackling financial crime? Don't miss the chance to feature in one of Fincrime Report's regular job focus Q&As.
We are looking for people who work in AML/CTF, fraud detection, threat intelligence and related legal and regulatory fields across a range of industries to tell us about their everyday job.
Just fill in a short Q&A and submit a photograph to be considered for inclusion. We want to feature people of all levels of seniority.
If you want to take part, email Carl Brown at carl@grcworldforums.com