In our latest reader-submitted Q&A, Daniel Cohen describes how he enjoys discussing new ways to fight fraud
What is your full job title?
Vice President & Chief Product Officer for Anti-Fraud at RSA Security
How long have you worked in the industry?
I've worked in the anti-fraud industry for close to a decade now. I joined RSA's FraudAction business back in 2011, after spending time working in a handful of software development and management roles.
How long have you worked in your current role?
I have been overseeing RSA's Anti-Fraud product portfolio since 2017. The portfolio includes our Adaptive Authentication offering for online banking, Adaptive Authentication for eCommerce CNP, and our FraudAction business. Each solution is focused on helping detect and prevent financial and payment fraud across the omnichannel space.
How did you get into your current role?
In late 2010 – when I left my previous employer – the 'cyber' buzz was really starting to pick up, and I set my sights on finding a role within the cybersecurity industry. The industry was still nascent at the time and was not bustling with start-ups as it is today. However, one of the longest-standing players, RSA Security, had offices practically around the corner from where I lived. The rest is history.
What does a typical day look like?
A typical day usually involves reviewing operational metrics such as how well our offerings are doing across our global customer base, going over our roadmap development status, and speaking to customers. But the best part of my day is when the team sits down to discuss new ways to fight fraud. This can cover anything from machine learning and AI, to biometrics and behaviour-metrics, and anyone can bring any idea to the table. After the discussion, we decide which are the best ideas to introduce into our development pipeline.
What is your greatest achievement so far?
Waking up in the morning knowing my products, and the incredible team behind them, make a difference: we've prevented nearly $30 billion in fraud over the past two years alone.
What is the most challenging thing about your role?
We have thousands of customers across the globe, and when it comes to fraud the stakes are high—real money and real people can be impacted. When customers do experience fraud, working with them to identify root-cause and mitigation options can be a tense and tough but rewarding challenge.
What part of your role do you enjoy the most?
I love engaging with fraud professionals and discussing our favourite topic – fraud and how to stop it! My role has provided me with access to some of the brightest minds out there and I love picking their minds and considering future directions to fight fraud.
How do you see your role/industry changing in the next few years?
There's no doubt that the pandemic has impacted what we do and as I look to the future, I anticipate that it will continue to challenge our industry and prompt us to evolve even quicker. We've already seen a rise in consumers purchasing goods online which has, in turn, caused fraudsters to shift their tactics to focus on card-not-present (CNP) fraud. As a result, we're helping our global banking customers fight fraud by implementing extra steps to verify users without affecting the customer experience.
Would you recommend working in this role, please give your reasons?
Absolutely. Firstly, you make a measurable difference: you prevent fraud from impacting real people. Secondly, you get to work with a like-minded (and very smart) team and, finally, you get to fight the bad guys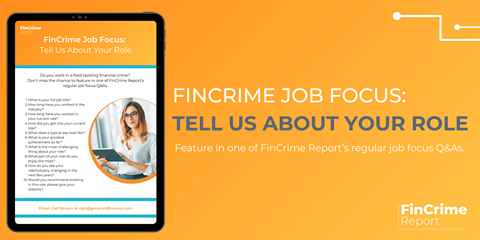 Do you work in a field tackling financial crime? Don't miss the chance to feature in one of Fincrime Report's regular job focus Q&As.
We are looking for people who work in AML/CTF, fraud detection, threat intelligence and related legal and regulatory fields across a range of industries to tell us about their everyday job.
Just fill in a short Q&A and submit a photograph to be considered for inclusion. We want to feature people of all levels of seniority.
If you want to take part, email Carl Brown at carl@grcworldforums.com