Andrew Davies explains why he feels lucky to be part of the global community fighting financial crime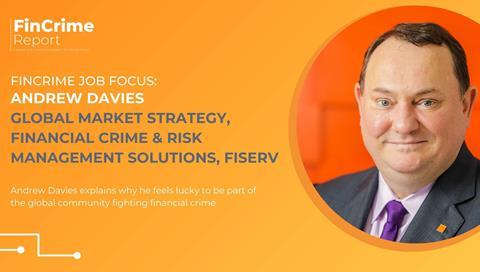 What is your full job title?
Vice President, Global Market Strategy, Financial Crime & RiskManagementSolutions at Fiserv
How long have you worked in the industry?
I've been in the Financial Services industry for over 30 years, and in the AML and fraud detection space for 25 years.
How long have you worked in your current role?
15 years
How did you get into your current role?
I worked for the Dutch company NetEconomy, a leader in AML and fraud prevention solutions as General Managerfor North America. The company was acquired by Fiserv in the mid-2000s, and I joined Fiserv through the acquisition.
What does a typical day look like?
Every morning I do some news research to see what the headlines are and identify trending coverage of financial crime issues and emerging scams. I then make a list of what I need to achieve during the day. As in any other job, I take part in meetings or calls with internal teams, clients, and prospects to discuss ongoing projects. I spend some time most days preparing material and comments for public speaking opportunities at industry events. For instance, today I'm giving a virtual Ted Talk from New York City. I try to take some time every day to reach out to colleagues in the industry to learn from them, sharing i nsights on trends and techniques that can help us fight fraud and money laundering.
What is your greatest achievement so far?
Throughout my entire career, I have always prioritized meeting commitments to clients. I take pride in living up to promises and always doing the right thing. Moreover, I believe that by helping financial institutions implement effective financial crime and risk management solutions, I've contributed to the greater good. Financial crime is often connected to predicate crimes like human trafficking or drug dealing, and financial institutions play a key role in uncovering this criminal activity so it can be stopped.
What is the most challenging thing about your role?
Technology is evolving at an extremely rapid pace, and consequently it's a challenge to stay up to date. In addition, more sophisticated ways to commit crime are continually emerging. Criminals are well funded and have become more tech-savvy. Even more, the ever-changing financial crime landscape demands awareness of the latest trends, and we at Fiserv are committed to equip our clients with the most innovative tools.
What part of your role do you enjoy the most?
I enjoy speaking to our clients, prospects, and people in the industry about financial crime threats and how we can efficiently collaborate. I work with Fiserv clients around the world to design and deploy effective financial crime and risk management solutions to mitigate these risks, with a particular focus on compliance, money laundering and fraud. I think it's fascinating and I a considermyself very lucky to be part ofthis global community fighting financial crime.
How do you see your role/industry changing in the next few years?
Given the fast pace of change and the rise of new financial crime techniques, my role requires continuous learning on technologies such as automation, artificial intelligence (AI), and advanced analytics, which can be employed to prevent and detect such crimes. As we look for ways to stay ahead of increasingly sophisticated criminals, I anticipate the industry evolving to embrace more collaboration among financial institutions, technology providers, and regulators.
Would you recommend working in this role, please give your reasons?
Absolutely! As I noted above, by using technology to fight fraud and illicit activities, you have a real opportunity to contribute toward the greater good for society. In addition, effective financial crime and risk management solutions can enable financial institutions with a real competitive advantage. Last, but not least, it's an exciting role that rewards constant learning.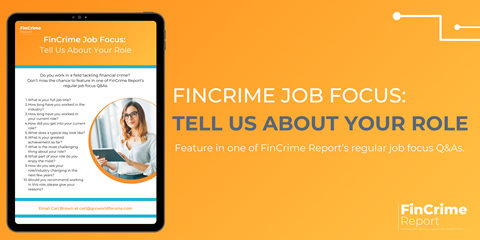 Do you work in a field tackling financial crime? Don't miss the chance to feature in one of GRC World Forum's regular job focus Q&As.
We are looking for people who work in AML/CTF, fraud detection, threat intelligence and related legal and regulatory fields across a range of industries to tell us about their everyday job.
Just fill in a short Q&A and submit a photograph to be considered for inclusion. We want to feature people of all levels of seniority.
If you want to take part, email Carl Brown at carl@grcworldforums.com