FinCrime Global second day brought more global experts together to discuss the key themes defining the financial crime landscape today.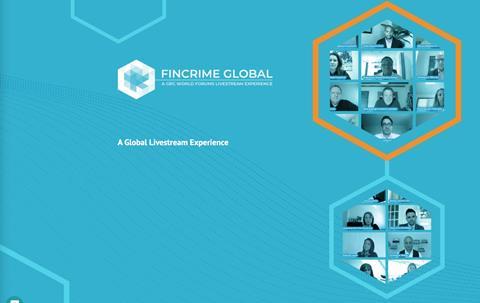 Money laundering, regulation technology (RegTech), and the role of technology in fighting cash-based crime online, were among the topics explored through panel debates and keynote talks.
The morning sessions began with Catherine Chapman, Cyber Security Journalist and Founding Board Member of the Infosec Hoppers, moderating a talk on how RegTech can be practically implemented.
Charles Brown, Head of Community, Blackdot, said:
"Complying with the law is obviously important but we need to move beyond technical compliance.

"The RegTech associates report discusses barriers to adoption to RegTech. There are long procurement cycles due to the large chain of stakeholders involved. Things are taking a long time, so we need to be patient. There are difficulties in terms of navigating the internal processes of legacy technology systems.

"Because the way in which regulations are focused very heavily on KYC and transaction monitoring and technical compliance, the senior marketers have been sold to by these vendors for so long," Mr Brown continued.
Following this session, "Risks on the RegTech Edge" looked at how non-financial technologies and platforms are becoming financialised, and how crime risk is generated as a result.
Iain Swaine, Head of Cyber Strategy EMEA at BioCatch, said:
"Social media is just the perfect storm of opportunity for criminals. At the moment, there is no direct financial activity on social media, but we know that is going to change, as Facebook is looking at crypto currencies and that will change things once again."
Jane Jee, CEO at Kompli-Global, said:
"The morality not only in companies, but also in our societies is quite weak at times."

"Graham Barrow, Author and Founder "The Dark Money Files", said:

"We can look at all of these companies operating in the virtual world, they make money out of transacting fake or overvalued activity, and it is part of their income. They don't have an obvious financial obligation to stop this, but maybe we should rather look at rewarding them when they don't run into this illicit activity."
Discussing what technology should be used to regulate companies as they bid to combat financial crime, Iain said:
"Actually, there is not much new crime: there's fake accounts, fake IDs, and we've seen these over and over. It's processes and people, and this is where tech companies don't have the experience."
Related: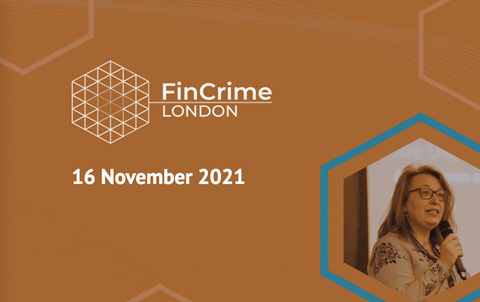 FinCrime London is an in-person forum taking place on the 16 November 2021 at the Riverbank Park Plaza, London. The forum will address the state of the nations fight against financial crime, tackling how the UK can become better, more efficient and effective at fighting financial crime.
The event will bring together leading subject matter experts for a one-day deep-dive into prominent issues facing those fighting financial crime, and provide the latest advice, guidance and insight.
In the afternoon, the impact of RegTech came under our experts' scrutiny, with the methodology identified as having "massive potential" as a tool against FinCrime, in terms of prevention, detection and reporting.
Theresa Bercich, Director of Product Strategy, Lucinity, said:
"Not only have we seen a complete revolution in RegTech, now we really have these tech savvy customers."
"It's important to have resources that are understandable in RegTech; it's not only about building an algorithm, but also about how we deliver this to our customers and that it can be understood."
Sujata Dasgupta, Global Head – Fincrime Compliance Advisory, Tata Consultancy Services, said:
"Now regulators across the world are encouraging the use of advanced technology, and they want to see the potential of this, so there is so much more coming in the future from them.

"The main problem is that even if there are rules and thresholds, criminals know how to pass those."
In a highlight panel debate in the afternoon, Liat Shetret, Senior Advisor – Crypto Policy and Regulation at Elliptic moderated a talk on new US frontiers, and current developments in the US/AML (Anti-Money Laundering) regime.
Ms Shetret established the climate in the US by underlining how busy the past few months have been in America on the regulatory front.
Richard Berner, Clinical Professor of Finance, Co-Director, NYU Volatility and Risk Institute.
NYU Stern School of Business, began by elaborating on how companies in the US need to approach risk management.
Mr Berner said:
"Firms need to think about how to fit their responsibilities under the law and approaches to risk management - an enterprise-wide approach - and think about adopting governance and risk appetite, risk in what forms and where, identify and measure those risks, communicating them across the firm and then decide what they're going to do about those risks.

"It's not simply up to one person - everyone is responsible for cybersecurity across the firm. All senior figures have to take ownership of managing risk.

"The reporting of suspicious activity can be made much more efficient than it is today if we use the right tools. We need partnership between government and the firms they oversee. This communication channel is very important and dialogue pathways have to be optimised."

"In terms of risk management, firms have to prepare themselves to be wrong. They are going to be attacked. They have to consider the dark corners of their operations and see where they haven't implemented the controls that are needed to guard against these risks."
Judith Germano, Founding Member, GermanoLawLLC, said:
"With regulation, the primary goal is often to balance the encouragement of innovation, while ensuring sufficient cybersecurity compliance protocols are in place. I think the US government struggles in this capacity, and it's not easy given how tech is ever-changing.

"I think there's an issue with the government trying to get advisors that are fully up to speed on these issues."
Ms Shetret said:
"A really great prevention element is to ask yourself "What would whistle-blowers be reporting on?" – and then fix that. The concept of risk exposure really needs to run the whole gamut of the business. Compliance function is part and parcel of any new business or product development."
Marcos Tinedo, Head of Risk & Compliance (Compliance Officer & MLRO), Mexico, Optal, said:
"Training is essential so people can understand specifically how security issues can arise.
Judith Germano, Founding Member, GermanoLawLLC, added:
"I don't think you can under-train on healthy cybersecurity practices. So many less-sophisticated attacks occur because of simple human error."
Missed a session at FinCrime Global? All the livestreams are available to watch on-demand now.