In a recent interview, McKinsey's Ziad Haider discussed managing geopolitical risk with prominent figures from Google, Intel and Pfizer.
Russia's war on Ukraine was top of a debate that also looked at strained international relations, digital censorship and conflicting political interests across Europe. Experts argue that these pressure points, compounded by disinformation, are presenting serious challenges for organisations in private, public and third sectors as they bid to mitigate risk.
Russia's invasion of Ukraine
In 2022, organisations were confronted with the geopolitical fallout of the Russia-Ukraine conflict.
Pfizer, operating as a pharmaceutical company, possessed a trade exemption with Russia. Nevertheless, Sally Susman, Pfizer's executive vice president and chief corporate affairs officer underlined the multinational's refusal to adopt a "business as usual approach and ignore the situation," instead opting to contribute profits towards Ukrainian relief efforts.
Intel, on the other hand, recognised the conflict as a poignant reminder to prioritise resilience and redundancy in their operations and sales.
"We must ensure, in terms of both our company's functioning and product distribution, that we possess robustness and backup plans in areas such as manufacturing, supply chain, and R&D," said Bruce Andrews, Intel's corporate vice president and chief government affairs officer.
Confronting disinformation emerged as a significant challenge, with Susman stating, "We realised that this war, more than any other, would involve an onslaught of disinformation channels."
Tensions in China
Through 2022, concerns also centred upon strained relationships between nations worldwide, specifically China and the United States.
Bruce Andrews noted that China consumes a quarter of the world's semiconductors in electronics and handles an additional 25 percent through its manufacturing sectors. Questions have subsequently arisen regarding how nations can effectively interact with China; how can we remain protected while ensuring competitiveness in Chinese markets, even in the event of increased actions on the part of the US government?
Navigating Covid-19: educational hurdles and balancing supply chains
Significant risk has stemmed from the global health crisis, particularly with regards to how business communities have adapted through the ebb and flow of the pandemic. Susman emphasised how she learnt the "importance in these moments to be almost hyper-present."
"Make yourself the educator in chief – explaining the new mRNA technology; explaining how we're building equity and fairness in our system," she said.

"It was just really exhilarating and exhausting, but more exhilarating, to work in this way and to be really engaged with the public in an almost educational role, which was new for us and very exciting," she added.
The global internet
Online freedoms and restrictions have been another key issue for risk debate, with Google's global head of government affairs and public policy, Karan Bhatia highlighting the tech giant's desire to make online information accessible with no charges attached.
Bhatia noted how several countries have witnessed rapid growth in both internet law and the number of platforms in existence, with content regulations also escalating.
Finding the truth
Sorting fact from fabrication continues to be a major source of risk. Susman expressed her frustration at consuming news in different areas, and receiving a wholly different picture on global events. "Most news outlets really do have a bias," Susman said, before outlining her efforts to source primary evidence through first-person reports.
Building a "holistic" view is key for Bhatia, who looks at "sources that help me step back and sort of understand what the tectonic shifts are under way that are impacting or going to impact the sector."
More broadly, Andrews observed how the world is more "multipolar" today, as opposed to past times, when the US and a number of large markets took up most attention. Events in Europe are now understood as an indicator of what may take place on the other side of the Atlantic, or of how China may engage with situations in the EU or US.
As overseas risks fluctuate, Bhatia focussed on the role of the employee, and how staff in global regions can help companies to understand "disinformation risks" that may crop up locally.
In turn, that "informs our products and actions" Bhatia said. "Recently, the work that we've done with our Iranian employee relations groups about how Google products can be deployed to help support internet access for the people of Iran," he continued.
In terms of anticipating and planning for future risk, the relationship between the US and China will be pivotal, Andrews believes, calling them "the two most consequential countries in the world right now," both with "a remarkable ability to work together and lead."
If relations deteriorate, Andrews warns, risk may escalate not solely for the enterprise world but also for the interests of international stability.
Disinformation is a primary danger area for Susman, with emphasis on her experiences of vaccines. Without "that baseline of integrity of information about truth and science, we're really in a very horrible spot," she said.
Meanwhile, for Bhatia, online regulation is a persistent worry because of the fragmentation inherent to the internet's development. Noting the plus points that have come from an "integrated, free, interoperable internet" over the past two decades, Bhatia fears that a future "splinter net" may only drive risk potential as we embrace digital transformation.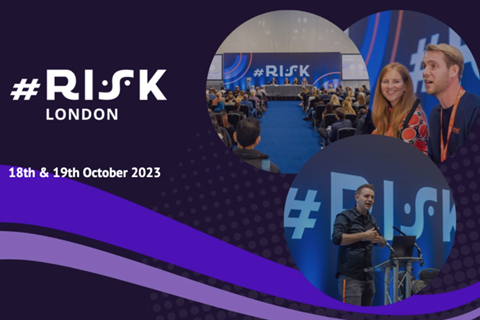 Taking place October 18 and 19, #RISK London brings high-profile subject-matter experts together for a series of keynotes, engaging panel debates and presentations dedicated to breaking down the challenges and opportunities that businesses face in times of unprecedented change.
"#RISK is such an important event as it looks at the broad perspective or risk. Risks are now more interconnected and the risk environment is bigger than ever before."

Michael Rasmussen, GRC Analyst & Pundit, GRC 20/20 Research