At PrivSec Global today, Ciaran Martin, founding CEO of the National Cyber Security Centre, discussed ransomware.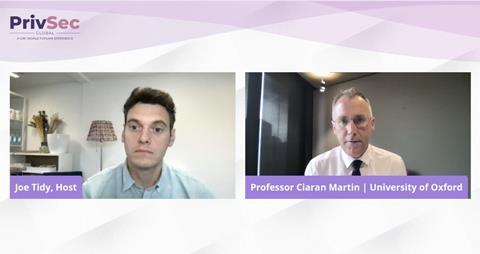 Before a global audience, Ciaran explained that the reason why ransomware is working is due to safehaven, weak cyber security and flows of money, adding that the Biden adminstration is trying to tackle this.
Ciaran explained that ransomware works better "from the top when you quietly and secretly get executives to pay. However, when you got national healthcare systems on the front page of every newspaper in the world, you got Colonial Pipeline, and the pressure of feeling heat," it is plausible the ransomware hackers have overeached and made a mistake.
"The reason why I am so obsessed with ransomware is not really just about the money…it's that for 20/30 years we've all been glamourising, 'Hollywoodizing' if you like, the cyber threats as this great theatre of war between states. Actually, we're the closest people to getting hurt or killed due to cyber attacks, because ransomware attackers are disrupting fuel supplies and healthcare in particular."

Ciaran Martin, founding CEO of the National Cyber Security Centre
Ciaran stressed that ransomware is in fact getting dangerous, and for this reason it is vital that ransomware is dealt with.
"In an ideal world we would have obliverated every ransomware…but that's not going to happen."
When asked about the progression of digital technologies, Ciaran said: "Control and dominance over techology is now the thing."
Ciaran Martin is among 210+ industry thought-leaders speaking at PrivSec Global, a livestreaming and on-demand experience.
Tomorrow at 4:00pm BST | 5:00pm CEST, speakers will discuss "Phishing, Ransomware Prevention Plans and Staying One Step Ahead of Cybercriminals" in further depth. Do not miss out.
PrivSec Global