Senior Vice President of Risk, HSBC
I am a 'Public Banker', with 18 years of experience in Corporate banking and Risk management across leading public, private and foreign banks. As the Head of Enterprise Risk, HSBC Bank Singapore and COO for Risk Function, I drive initiatives for aggregating risks, unlocking human potential, process efficiencies, innovation, Business Analytics and digitalisation. Employee and Community Engagement are my twin focus areas, to ensure a ' Safe and Great Place to Work'.
I have extensive experience in team management, credit risk management, such as sourcing, approvals, policy making, portfolio analytics, capital management, stress testing, modelling, due diligence, compliance, assurance, Internal controls, Audit, Governance and digitalisation of lending. I have led best practices in Operational Risk, ERM, Climate Risk, Resilience risk management, Project Management. Led strategic & Regulatory projects such as Basel, IFRS, BCBS, Enterprise Risk, Climate Risk, Portfolio Analytics, Streamlining & Digitalisation.
CEDT-Enterprise Risk, Digital Risk, Third party Risk and Climate Risk are my special interests, with their evolving kaleidoscope of hues. I strongly believe in Climate Risk Centric Decision making, embedding conservation in design.My articles, speeches and leadership initiatives are for thought leadership for ensuring resilience in the financial system.
As a futurist, my mission is to reimagine and lead digital transformation in banking to empower customers. But I am equally passionate and vocal about the ethics of technological usage for the long term benefit of mankind.I am a technophile, who believes in combined intelligence(CI) and a block chain of community, with coexisting nodes of machines & humans.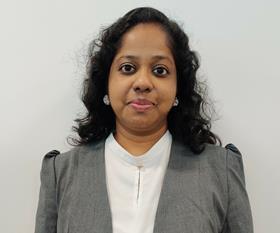 My Sessions
The Future of ERM: Technologies and Frameworks
18 May 2022, 16:10 - 17:00 BST