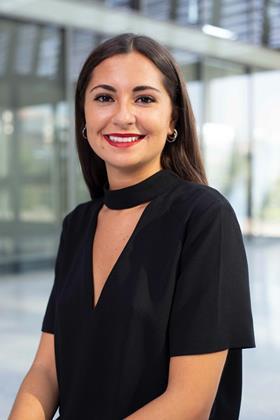 Taking place at RAI Amsterdam on September 27 and 28, #RISK Amsterdam examines the trends and best practices organisations are employing to navigate today's rapidly evolving risk landscape.
Sara La Sala is Head of Advisory at GO2-Markets. In her role, she oversees the net-zero advisory activities carried out by GO2-Markets team to its corporate clients. In the past years, Sara has gained extensive experience in net-zero strategy, in addition to sustainability reporting and disclosure.
Sara will be at #RISK Amsterdam this month to discuss corporate sustainability and how ESG has become part of the mainstream business discourse.
Related Session:
Solving the Sustainable Business Dilemma: Balancing Profit with Environmental Responsibility - Wednesday 27th September, 15:00 - 15:40pm (CEST) - Privacy, Security & ESG Theatre
BOOK YOUR PLACE AT #RISK Amsterdam
We caught up with Sara to hear more about her career to date, and for insight into the key themes of her #RISK Amsterdam session.
Could you outline your career pathway so far?
I am a socio-ecological economist who presently leads as the Head of Advisory at GO2-Markets. I oversee the net-zero advisory endeavours undertaken by the GO2-Markets team for their corporate clientele.
Over the years, because of my profession and personal interest, I have cultivated a wealth of expertise in devising net-zero strategies, delving into sustainability reporting and disclosure. I greatly enjoy guiding our global clients through the intricate journey of decarbonisation, offering valuable insights into carbon accounting, strategic procurement of renewable energy, establishing science-based targets, and achieving corporate climate neutrality.
My academic journey took me to the Vienna University of Economics and Business (WU), where I attained a Master of Science in Socio-Ecological Economics & Policy, specialising in the nuanced field of Climate Finance. Before my tenure at GO2-Markets, I lent my expertise to TIER's Sustainability and Public Policy department, a Berlin Based e-mobility company. I also served as an ESG Analyst at ISS Institutional Shareholders Services.
I firmly champion the concept of a just transition, advocating climate finance tools and corporate sustainability as potent instruments wielded by the private sector to effectively combat the pressing socio-ecological crises of our times.
Besides the ethical imperative, what are the benefits of prioritising ESG within business strategy?
Frequently, within public discussions, the act of prioritising ESG and transitioning from the typical business approach to a more encompassing business model is often perceived as a potential hindrance or even a complete stoppage of growth. There is a need for a change in how we frame this narrative.
Prioritising Environmental, Social, and Governance (ESG) factors within a business strategy can offer a range of benefits beyond the ethical imperative. These benefits can positively impact the company's financial performance, reputation, risk management, and long-term sustainability.
Organisations that incorporate ESG considerations into their strategies tend to demonstrate better financial performance over the long term. By addressing environmental and social issues, companies can reduce operational costs, improve resource efficiency, and tap into new markets and revenue streams, ultimately enhancing their bottom line.
In addition, ESG-focused strategies can help businesses identify and manage potential risks more effectively. By proactively addressing environmental and social risks, companies can avoid legal liabilities, reputational damage, and operational disruptions that could negatively impact financial performance.
But in general, integrating ESG into business practices encourages innovation and develops new products, services, and business models. Companies prioritising sustainability can differentiate themselves from competitors, attract environmentally and socially conscious customers, and gain a competitive edge in evolving markets.
Regarding access to capital, investors, including institutional investors and asset managers, increasingly consider ESG factors when making investment decisions. Companies with strong ESG performance are often more attractive to these investors, leading to improved access to capital and potentially lower borrowing costs.
Prioritising ESG can improve relationships with various stakeholders, including customers, employees, suppliers, and local communities. Demonstrating a commitment to sustainability and responsible business practices can enhance trust and loyalty, fostering long-term partnerships. Sustainable practices can reduce the churn of current talent and attract new talent, especially among the new generation who tend to be more purpose-driven.
What are the primary challenges facing organisations as they bid to balance profit with sustainable business culture?
I have experienced that organisations encounter several key challenges, both external and internal, when it comes to a balance between profit generation and cultivating a sustainable business culture.
To start with, the challenge of reconciling immediate financial gains with the pursuit of long-term sustainability objectives is crucial. The pressure to achieve short-term profits can sometimes result in choices that undermine the broader goals of long-term sustainability. This intricacy underscores the difficulty inherent in addressing the climate challenge effectively.
The budget is also relevant. Implementing sustainable practices often requires upfront investments, which can strain financial resources in the short term.
The complexity of quantifying sustainable initiatives' impact in terms of profitability and environmental/social factors represents another challenge.
But in general, as with every multi-level and multi-faced challenge, integrating sustainability into business operations requires specialised knowledge and skills. Organisations may need help finding or developing the necessary expertise within their workforce, and changing and evolving regulations related to sustainability can create even more uncertainty. It is also why choosing the right partner for a company's sustainability journey is crucial.
In essence, finding the proper equilibrium between profit and sustainable business culture demands strategic planning, stakeholder engagement, and a commitment to long-term vision despite the challenges that arise along the way.
Sara La Sala explores these issues in depth in the #RISK Amsterdam discussion: "Solving the Sustainable Business Dilemma: Balancing Profit with Environmental Responsibility".
It's now clear that a good ESG business practice helps companies connect with the public, leads and customers. By caring about people and the planet, companies differentiate themselves and stand out as leaders, ultimately leading to greater profitability. However, it takes commitment.
Join this session to hear leading industry experts share their views on how to balance profit with a sustainable business culture.
This session is hosted by:
Marisa Pumares Taminiau, Sr. Communications Business Partner for ESG Sustainability, ASML
Details
Session: Day 1, Solving the Sustainable Business Dilemma: Balancing Profit with Environmental Responsibility
Theatre: Privacy, Security & ESG Theatre
Time: 15:00-15:40 (CEST)
Date: Wednesday 27 September 2023
#RISK Amsterdam is also available on-demand for global viewing.
Book Your Place at #RISK Amsterdam