Why is progress slow when it comes to adopting Regulation Technology (RegTech) in the financial sector? Experts put the issue under the microscope this afternoon in an exclusive panel debate at FinCrime World Forum.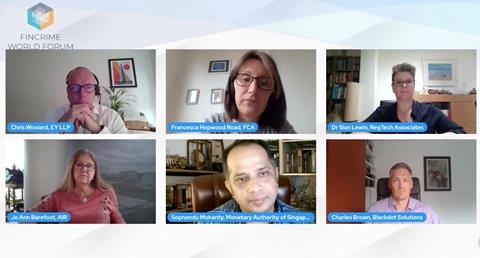 Subject-matter experts came together today at FinCrime World Forum today to study ongoing challenges facing the institutions within the financial sector as they bid to leverage new RegTech mechanisms in order to meet their oblitgations in the fight against financial crime.
In a recent report, the City of London Corporation noted that while the need progress in this area is urgently needed, the uptake of RegTech is still limited across all sectors.
A lack of practical rather than rhetorical regulator support has been proposed as one cause for this, and there are likely to be other barriers too. Some of the most innovative RegTechs are relatively small or young firms that find it difficult to satisfy the risk requirements of large and mature financial institutions. Even when the solution on offer is a good fit, it can sometimes be impractical for either side to work together.
In the afternoon debate, "Pushing for the RegTech Revolution Removing the barriers to adoption in FinCrime", panellists took a pragmatic view on the state of RegTech adoption in the industry and sought to get to the root causes of its currently slow pace.
Christopher Woolard CBE, Partner, EMEIA Financial Services Consulting & Chair, EY Global Regulatory Network, EY LLP, chaired the discussion.
Francesca Hopwood Road, Head of RegTech & Advanced Analytics, FCA, said:
"Looking at the wider regulatory conversation, you see these new offerings that are really exciting, and which ask how we can learn from one another, because while jurisdictions differ, challenges are often fairly similar. The greater the sweep of regulators stepping into this space, the more insight and opportunities will grow for all involved."
Charles Brown, Head of Community, Blackdot Solutions, said:
"We've found success in being able to demonstrate of our technology and in the ROI that can be achieved. Identifying workshop events with the buyers, to enable to buyer to identify the benefits we bring. We have to demonstrate creative ways of showing the value proposition of RegTech solutions. We have to be able to articulate benefits across various teams so that all stakeholders fully understand the solution.
"Taking a long-term partner-driven approach is important, because if a RegTech is not willing to take an agile and flexible, bespoke approach, they're missing an opportunity to develop a long-term sustainable, value-driven relationship. We've had success with working with sponsors and internal champions who've been willing to collaborate with us."
Jo Ann Barefoot, CEO & Co-founder, Alliance for Innovative Regulation, said:
"RegTech is important and promising. The problem we have is that regtech is new technology, and we're trying to plug it into old, analog technology that dominates the financial sector today. This makes it hard to make things worthwhile. Groups of RegTechs are working together, so that if you adopt one and then another then they'll automatically work together.
"The Federal Deposit Insurance Corporation in the US has launched an effort to evaluate whether there could be a standard-setting org to let banks know if a RegTech partner meets the standards needed to work with the bank. Part of the vision would be the standards would be clear enough to be auditable. There could be a model that would allow third parties to evaluate whether a company is meeting safety and effectiveness standards. Solutions have to do what they're promising to do."
Missed a session? No problem - all sessions will be available on demand on grcworldforums.com