The PICCASO Privacy Awards Europe recognise the people making an outstanding contribution to this dynamic and fast-growing sector—from the professionals ensuring their companies meet increasingly complex legal demands to the academics and engineers pushing privacy thought leadership and innovative protections forward.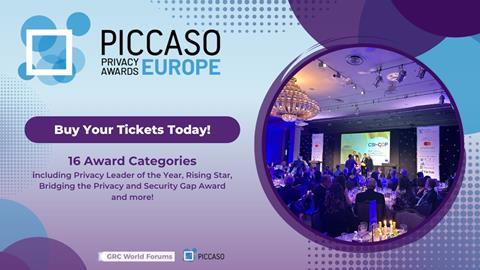 16 award categories will honour both organisations and individuals that are shaping the present and future of privacy and data protection.
With the PICCASO Privacy Awards 2023 expanding to include entries from the whole European continent, we're planning an even more spectacular and significant gala final in London, building on the inaugural year in 2022.
A stunning grade II listed London venue will be the backdrop for 2023. The elegant and historic venue will provide the perfect setting to celebrate the achievements of those who have shown exceptional dedication to protecting data and privacy.
The excellent Julia Streets will return as our host for the evening ceremony.
Best Privacy Programme Award: An effective privacy programme is essential to protecting data, minimising risk and facilitating people's data subject rights. This award will recognise the organisation that has gone beyond compliance requirements and implemented the most robust and efficient privacy programme.

Best Privacy Culture Improvement Award - Sponsored by: Privacy Culture: A privacy culture doesn't arise automatically—it's developed through careful planning, cooperation and hard work across an enthusiastic team. This award will recognise the organisation that has turned its team around and built a culture of privacy from the ground up.

Most Impactful Privacy Product of the Year: Protecting privacy in the digital age requires the right tools. An industry of privacy vendors has arisen in recent years, offering products that help consumers and businesses protect personal data. This award will celebrate the most impactful privacy product to hit the market.

Privacy Leader of the Year: The winner of this award will be someone in the industry who leads a team or mentors individuals, and who takes the time to show them the ropes and ensure those coming through the ranks are prepared for the future.

There will be four categories for this award:

● Consulting: A senior leader within a consultancy that excels at helping junior employees

● Legal: An experienced solicitor or barrister that takes the time to support trainee lawyers

● Technology: A leader in tech who has helped the next generation break into the industry

● Academia: An esteemed senior academic who mentors and supports their less experienced colleagues

Privacy Writer/Author: This award will go to a writer who is completely on the ball and understands privacy, demonstrating this through an outstanding book or thought-provoking, well-written articles and interviews that help educate and inform their audience.

Privacy Award for Achievement: This award will go to someone who has been around the block and back and has contributed greatly to the privacy industry for more than 25 years.

Privacy Champion: Data has quickly become one of the most sought-after commodities. This award goes to the person who is always looking out for the interests of the everyday individual, making sure that customer and employee data are protected from prying eyes, and that privacy is preserved.

Best Educator: This award will go to a professor, lecturer or teacher who leads by example to inspire and motivate the next generation of privacy professionals.

Rising Star: Our future privacy welfare depends largely on the privacy sector's rising stars. Whether in formal education, in employment or doing extraordinary research of their own, the winner of this category will show great promise with their technical or practical ability.

Outstanding DPO: Data Protection Officers play a crucial role in organisations, providing independent advice, liaising with data subjects and helping manage risk for individuals. This award will go to the DPO who always goes above and beyond to fulfil their duties under the GDPR.

Best Innovative Privacy Project: This award will recognise the technical and organisational innovations that make privacy stronger in the digital age.

Privacy Team of the Year: Privacy teams work tirelessly to mitigate risk, meet compliance requirements, and help their co-workers navigate an increasingly complex legal landscape. This award will recognise the privacy team that has gone over and above to help its organisation achieve a better standard of privacy.

Bridging the Privacy and Security Gap Award: In too many organisations, privacy and security teams work in silos and speak different languages. But it's increasingly vital that people from across these two interconnected disciplines work together on issues like data breach response, privacy-enhancing technologies and access management. This award will celebrate the organisation where privacy and security teams work in harmony to protect data.

Privacy Executive of the Year: Privacy is now so vital to most organisations' operations that it requires a clear commitment from senior leaders. This award will celebrate the executive-level employee that has rightly recognised and championed the importance of privacy within their organisation.

SG Privacy Initiative: The intersection between privacy and environment, social and governance (ESG) concerns is increasingly clear. Whether helping to reduce carbon emissions through data minimisation or supporting marginalised groups through privacy controls, this award will recognise the initiatives that demonstrate how privacy is an integral part of ESG.

International Privacy Protection Award: Data protection is a global issue, and this award recognises an initiative with global impact that is focussed on improving data protection measures and behaviours to support robust and ambitious privacy outcomes.
These awards are an important initiative to recognise and promote privacy and data protection practices in Europe. With the increasing importance of data in our lives, it is critical to ensure that individuals' privacy and data protection rights are protected.
The PICCASO Privacy Awards Europe 2023 will help to raise awareness of these issues and encourage businesses and organisations to adopt best practices in privacy and data protection.