Should ESG embrace defence? Even MEPs who are members of the Green Parties have voted to support Ukraine with military supplies, and various reports suggest an ESG change is afoot.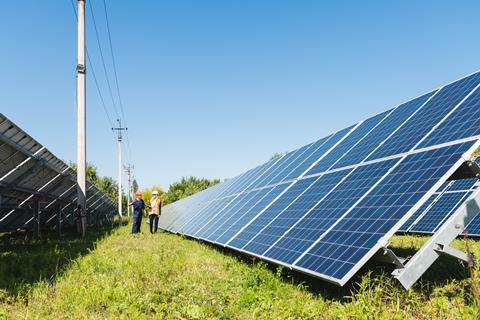 The EU has agreed to fund the purchase and delivery of weapons to Ukraine. The EU's foreign policy chief, Josep Borrell, said that the EU had agreed "to provide arms — lethal arms, lethal assistance — to the Ukrainian army for a value of a €450 million support package and €50 million more for the non-lethal supplies – [such as] fuel and protective equipment."
Meanwhile, 637 EU MEPs voted in favour of a resolution that includes a measure that welcomes unity between the EU and NATO. The measure also supports "strengthening of NATO's enhanced forward presence" and calls for "common military exercises to be launched."
The vote by MEPs hardly comes as a surprise, but a good number of MEPs who belong to Green Parties voted in favour of the resolution. The resolution was approved by 637 votes in favour, 13 against with 26 abstentions.
There are 84 MEPs with green-related affiliations.
So, if even Green MEPs are voting for military spending, isn't it time for ESG to embrace defence wholeheartedly too?
Mistruths
Part of the problem is that there are a lot of mistruths and truth distortions floating around.
Take this opinion piece in the Times, as an example, arguing for the UK to increase spending on defence to "protect our freedom."
But then, the Times piece was strangely silent about a report from the International Institute for Strategic Studies which claimed that in 2021, the UK's defence spending was the third highest in the world. At $71.6bn, the UK spent almost $10 billion more than Russia.
The truth is even without the US; NATO countries collectively spend more than five times more on defence than Russia,
Maybe the problem isn't spending. It is tempting to suggest that an investment in renewable infrastructure, creating less reliance on Russian gas, may create greater security for freedom than spending even more on defence…eventually.
The investment calls for ESG and defence
In investment circles, we see an increasing number of occasions when investors discuss ESG and defence in the same sentence.
Reuters cited a report from Citi analysts saying, "We believe defence is likely to be increasingly seen as a necessity that facilitates ESG as an enterprise, as well as maintaining peace, stability and other social goods." And "recent events in Europe, we think, will significantly increase the likelihood of defence's inclusion in the EU's Social Taxonomy."
And Bloomberg quoted Hans Christoph Atzpodien, head of BDSV, a German defence industry lobby group, saying: "The invasion of Ukraine shows how important it is to have strong national defence. I appeal to the EU to recognize the defence industry as a positive contribution to 'social sustainability under the ESG taxonomy."
On the other hand
There is a good deal of nuance here.
An ESG advocate we spoke to said:
"Some people include responsible or ethical investment (values-based exclusion of specific industries from investment portfolio) in the ESG category. Those investors that screen out defence (much like they do tobacco, oil and gas, alcohol or other controversial industries) will continue to do so.

"Where ESG looks purely at how players within a specific industry are managing their ESG risks and impacts to determine lowest-risk investment, those who support defence-related industries will continue to do so and make (justify) investment choices based on the ESG performance of each. "
So it is a case of depends on preconceived notions.
But then it is important to understand that "defence investment is not just military and war-related expenditure… it also includes other critical aspects fundamental to sustainable development in an increasingly disaster-prone world. (Humanitarian responses, disaster relief, etc. etc.)."
ESG Global
ESG Global returns on 8 - 9 March 2022 for another livestream experience.
In 2022, it is likely we will see organisations come under further scrutiny in relation to the progression of their ESG strategies. Investors, activists, and other concerned stakeholders will all have greater expectations and demands around environmental, social and governance issues.
Attending ESG Global will ensure you are up to speed with the very latest industry insight, knowledge, and analysis to support your organisations efforts in environmental, social and governance.

Renewables
The idea we should ramp up renewables is not so straightforward, either.
And not all energy is electricity, and it will take time to reduce dependence on gas, for example, by moving to heat pumps.
Side benefit
And finally, we come to a rather inconvenient truth.
Innovation is not always planned. However, military spending, and indeed for that matter, spending on space projects, can lead to innovations that help humanity.
Advances in solar energy were a consequence of the NASA space programme of the 1960s and 1970s, for example. Ditto, military spending can have all kinds of side benefits, for example, the initial development of a GPS network.
So maybe we need defence and military spending; it is just a shame we have to have wars too!