Day 1 of the inaugural ESG World Forum took place on 7 Dec, bringing ESG and compliance professionals to discuss their vision of bringing about a cleaner, more ethical, and more sustainable world.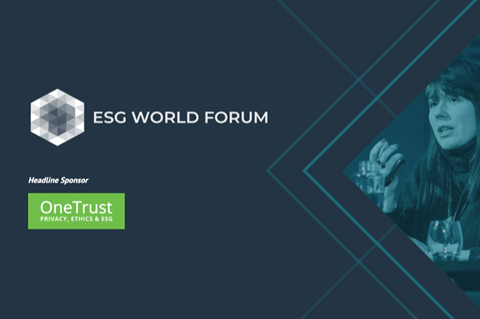 The first day of this exciting new two-day event provided practical insights on how businesses can implement an ESG strategy—and also explored the important ethical and societal questions underpinning ESG.
The day began with a fascinating presentation from Mark Campanale, founder of Carbon Tracker, demonstrating why fossil fuels are on the way out. Campanale's slides showed how investors are abandoning fossil fuel funds in droves—and with good reason, given their link to some of the world's most harmful technologies.
Next came a pragmatic look at implementing a carbon neutral roadmap, chaired by Niall O'Shea, Managing Director at Discern Sustainability Limit.
Panellists rightly pointed out that divestment in carbon-based production doesn't—in itself—remove carbon from the atmosphere. Direct reduction of emissions by individual companies is the only route toward a carbon-neutral future.
Day 1's third session focused on the new expectations on corporate boards to oversee their companies' ESG strategies, hosted by Joanna Thompson, Partner at Good Corporate Culture.
Panellist Nathan Birtle, Senior Vice President at Diligent, noted that a company's ESG efforts must be aligned with its overall strategy in order to be effective.
Then came a presentation by Pam Fitzpatrick, Head of ESG Center of Excellence at OneTrust. Pam spoke about how leaders can navigate the world of climate commitments and ESG disclosure.
Climate pledges and goals are important, but they must be meaningful and workable.
"Before you sign a pledge, educate yourself and your business partners on making pledge that is science-based that will drive real impact," Pam said.
After the presentation, there was an interview with Patricia Punder of Punder Law Firm about the role ESG could play in the global recovery from the COVID-19 pandemic.
Patricia pointed out the parallels between how the world responding to the pandemic and how it could potentiallly respond to the climate crisis: we need to take a unified approach and to act fast.
Companies willing to embrace ESG as a transformative way of doing business will retain staff and investors and recover quicker.
Next, a session on supply chain sustainability hosted by Lisa Beth Lentini Walker, the CEO of Lumen Worldwide Endeavors, highlighted how businesses should be holding their vendors and themselves to their ESG values and strategies.
The final panel of the day concerned the role of digital ethics in ESG, moderated by Shoshana Rosenburg, Founder and General Counsel at SafePorter. Contributors discussed where responsiblity lies for implementing and overseeing the ESG strategy—and the crucial nature of transparency and fairness.
Then, to close Day 1, there was a fireside chat with Eric Le Martret, Global Head of ServiceNow Risk & Security Practice at Wipro. Eric discussed why he thinks ESG is a "game-changer," given that corporate boards increasingly acknowledge that it is vital to a company's success.
Overall, the day was an inspiring and energising exploration of ESG that went beyond frameworks and disclosures and got to the heart of what ESG is really about: reducing society's harmful impact on the planet, regaining trust with consumers, and creating a better future for all.
You can catch-up and watch all the session on-demand