In our latest reader-submitted Q&A, Mike Hampson argues that the banking sector needs to improve collaboration to tackle financial crime
1. How long have you worked in the industry?
I've been in the industry since 1986, my experience has encompassed everything from payments, transactions to systems development. I spent time at ABN AMRO, Morgan Stanley and Credit Suisse First Boston
2. How long have you worked in your current role?
I set-up Bishopsgate Financial 11 years ago.
3. How did you get into your current role?
I knew first-hand the challenges there are in instigating major change programmes within financial services organisations. It was hard to get informed advice and find talent, particularly at speed and scale. The business is running successfully and we work with the top 100 financial services companies in the UK.
4. What does a typical day look like?
I start work early and plan to finish at a reasonable time, sometimes that doesn't happen though. My main activities include reaching out to clients for business development, reviewing the progress of the onsite delivery teams. There's always internal meetings to review progress and performance. I always make time for researching the latest industry updates and developments, although this was much easier when I had a daily commute to catch up on the papers.
5. What is your greatest achievement so far?
I've been most proud of being an entrepreneur, creating a company from nothing and giving hundreds of people job opportunities along the way.
6. What is the most challenging thing about your role?
I'd have to say, people – understanding what makes them tick, resolving team and client challenges. A business issue usually boils down to a people problem.
7. What part of your role do you enjoy the most?
People – I take a consensus-driven approach to decision making and always keen to give people space to try things their way. I enjoy building relationships and getting to understand what makes them tick. Overall it's been a joy taking Bishopsgate from a start-up to a scale-up business.
8. How do you see your role/industry changing in the next few years?
As a business owner, I don't see my responsibilities changing – I'm responsible for my people and ensuring we provide our customers with a great service. The banking sector has to significantly improve collaboration amongst all its players to reduce overheads and inefficiencies that surround much of the effort to reduce financial crime.
9. Would you recommend working in this role, please give your reasons?
Running your own business is all-encompassing. Don't do it if you want an easy life! In the good times, it's hugely satisfying and during difficult times it is incredibly stressful.
Thus, starting a business is only an option when you can give it your all. Apart from my children, it's what I've been most proud of achieving.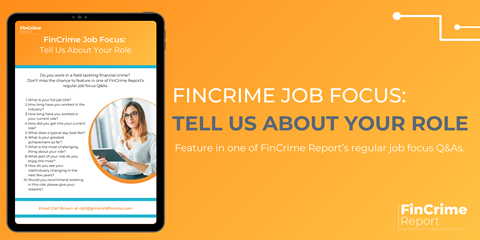 Do you work in a field tackling financial crime? Don't miss the chance to feature in one of Fincrime Report's regular job focus Q&As.
We are looking for people who work in AML/CTF, fraud detection, threat intelligence and related legal and regulatory fields across a range of industries to tell us about their everyday job.
Just fill in a short Q&A and submit a photograph to be considered for inclusion. We want to feature people of all levels of seniority.
If you want to take part, email Carl Brown at carl@grcworldforums.com