Webinar produced by GRC World Forums in association with ManageEngine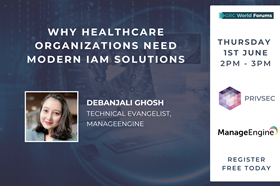 On-Demand Webinar Summary
Unlike cyberattacks in other industries, those targeted at healthcare organizations carry the potential of actually putting human lives at risk. The frequency and complexity of these attacks have only been accelerated by the pandemic and have continued to grow steadily ever since. Due to the sensitivity of data involved, it is particularly crucial for organizations in the healthcare sector to guard themselves against data breaches and adhere to compliance mandates.
Undergoing digital transformation is inevitable for healthcare organizations, and it's essential organizations in this industry keep up with the evolving threat landscape. Organizations using legacy systems will no longer be able to protect themselves against increasingly complex data breaches and ransomware attacks.
Healthcare organizations need robust access control methods that can facilitate secure access to sensitive data. Sophisticated IAM solutions can cater to current requirements such as remote access and hybrid cloud environments. In this webinar, we'll discuss why healthcare organizations need to adopt modern IAM solutions.
Complete the form to watch the session on-demand
What you'll learn:
The increasing complexity of attacks in the healthcare sector
The inadequacy of legacy IAM solutions
The capabilities of a sophisticated IAM solution
How AD360, ManageEngine's IAM solution, can help secure healthcare organizations
Meet the Speaker
Debanjali Ghosh
Technical Evangelist, ManageEngine
Debanjali Ghosh (a.k.a Debs), a technical evangelist at ManageEngine, helps IT leaders and global enterprises to take on the evolving cybersecurity challenges. She is a sought after speaker on the key IAM and cybersecurity trends in international conferences and summits. Her research studies on the topics of Zero Trust, advanced authentication, and building an enterprise-grade cybersecurity framework have received much acclaim internationally.