The data provisioning maturity model acts as both a measuring stick and common framework for organizations to help illustrate what is needed to understand and ultimately improve their data protection program.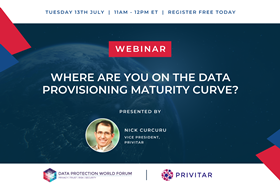 Webinar Summary
Tuesday 13th July
Event Timings:
EDT: 11am - 12pm
BST: 4pm - 5pm
Join Privitar's VP of Privacy Ecosystem & Special Projects, Nick Curcuru, as he demonstrates how the model allows an organization to quickly identify improvement areas, take fast short term actions to improve, and do this all while keeping the value of their data in focus.
After this session, you'll feel empowered to use the data provisioning maturity model as a foundation, allowing you to:
Create a common framework and language to help communicate to the organization
Quickly identify improvement areas
Define a strategy and goals for improving data provisioning in your organization
Provide a standard to help measure progress and resolve conflicts
Meet the Speakers:
Nick Curcuru
Vice President, Privitar
Nick Curcuru is VP of Privacy Ecosystem & Special Projects at Privitar. Prior to this he was Vice President of Enterprise Information Management at Mastercard, where he was responsible for leading a team working with organizations to generate revenue through smart data, architect next-generation technology platforms, and protect data assets from cyberattacks by leveraging Mastercard's information technology and information security resources and creating peer-to-peer collaboration with their clients.
Nick brings over 20 years of global experience successfully delivering large-scale advanced analytics initiatives for such companies as the Walt Disney Company, Capital One, Home Depot, Burlington Northern Railroad, Merrill Lynch, Nordea Bank, and GE. He frequently speaks on big data trends and data security strategy at conferences and symposiums, has published several articles on security, revenue management, and data security, and has contributed to several books on the topic of data and analytics.