On June 28, 2021, the European Commission adopted two adequacy decisions for the UK.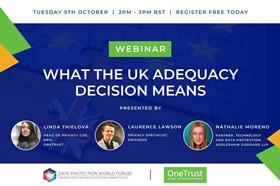 Webinar Summary:
Tuesday 5th October
Event Timings:
BST: 2pm - 3pm
CEST: 3pm - 4pm
In them, the Commission outlined that personal data can now flow freely from the EU to the UK where it benefits from an essentially equivalent level of protection to that guaranteed under EU law. However, there are some inherent risks to the adequacy decision and unique considerations that UK data exporters need to consider.
Join us for a webinar to discuss:
An overview of the UK Adequacy decision and the risk points of the adequacy
Best practices for handling TIAs and the essential equivalency assessments
Considerations and usability for EU SCCs and EDPB Recommendations under the UK GDPR
A toolkit for navigating post UK-Adequacy Data Transfers
Meet the Speakers:
Linda Thielová, CIPP/E, CIPP/US, CIPM
Head of Privacy CoE, DPO, OneTrust
Linda Thielová serves as Head of Privacy CoE, DPO at OneTrust – the #1 most widely used privacy, security, and trust technology platform. In her role, Linda provides guidance on GDPR, ePrivacy, and global privacy-related obligations to support customers and product innovation and is responsible for overseeing OneTrust's data protection strategy and implementation to ensure compliance with GDPR requirements. She also conducts training and workshops on the global privacy landscape and regularly contributes to various publications and conferences.
Linda is a Certified Information Privacy Professional (CIPP/E, CIPM, CIPP/US) and earned a Master's in Law and Legal Science from Masaryk University Brno.
Laurence Lawson
Privacy Specialist, Ericsson
Laurence is currently working as a Privacy Specialist at Ericsson in Finland, ensuring privacy by design in Ericsson's product portfolio. Prior to this, he was a privacy consultant with Deloitte.
Originally from the UK, he has his bachelor's degree in Law from Birmingham and his master's degree in International Business Law from Helsinki, specialising in Digital and Privacy law where he wrote his thesis on Data Transfers post-Brexit.
Nathalie Moreno
Partner, Technology and Data Protection, Addleshaw Goddard LLP