The truth is many companies addressed their data retention obligations during the period of GDPR-readiness and have not circled back since.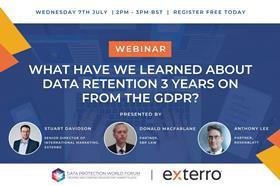 WEBINAR SUMMARY
Wednesday 7th July
Event Timings:
BST: 2pm - 3pm
CEST: 3pm - 4pm
Organisations need to continually think about how they manage their data and enforce their retention policies and schedules. Companies often keep personal data on their systems long after it's needed, mostly because there isn't a reliable system or processes in place to enforce those data retention initiatives.
We've also seen examples where a lack of a robust approach to data retention has contributed to sizeable fines:
Spartoo fined €250k in August 2020
Cathay Pacific fined £500k in March 2020
TIM (Italian Telecom) fined €27.8 million in January 2020
Doorstep Dispensaree fined £275k in December 2019
Deutsche Wohnen SE originally fined €14.5 million in October 2019
SERGIC fined €400k by CNIL in France in May 2019
Join our expert panel to consider these enforcement actions and explore how organisations can future proof their data retention obligations and ensure they continue to manage data appropriately in line with the GDPR.
Meet the Speaker:
Stuart Davidson
Senior Director of International Marketing, Exterro
Stuart Davidson is the Senior Director of International Marketing at Exterro. Exterro empowers legal teams to proactively and defensibly manage their complex Legal Governance, Risk and Compliance (Legal GRC) requirements. We are the only software provider offering a comprehensive Legal GRC software platform that automates the complex interactions of privacy, legal operations, digital investigations and cybersecurity response, compliance and information governance.
Thousands of legal teams around the world within corporations, law firms, and government and law enforcement agencies, trust our integrated Legal GRC platform to manage their risks and drive successful outcomes at a lower cost. For more information, visit exterro.com.
Dr. Donald Macfarlane
Partner, SBP Law
Dr. Donald Macfarlaneis a partner at SBP Law and has over 15 years' experience working within large multinationals like IBM, BP and International Law Firms and SME's including high tech start-ups like Hanzo, LDM and Baku.
SBP Law prides themselves on providing clients with discreet, creative and strategic business advice. SBP represents the interests of corporate and individual clients in fields usually dominated by much larger law firms. SBP Law see themselves as more than just a law firm – they see themselves as abridge between the client and the law. "The hardest thing to learn is which bridge to cross and which to burn" – David Russell
Anthony Lee
Partner, Rosenblatt
Anthony is a partner and commercial lawyer specialising in information technology, telecommunications and outsourcing transactions (ITO and BPO). He leverages over 20 years' experience as a commercial IT lawyer and advises on all manner of transactions. He also specialises in data protection, including the General Data Protection Regulation (GDPR), intellectual property law, electronic and mobile commerce, and freedom of information.