Data, trust and compliance are three big focus areas for businesses.
WEBINAR SUMMARY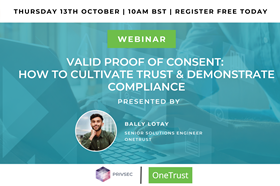 Thursday 13th October 2022
Event Timings
BST: 10am-11am
In terms of consent, obtaining it from your audience is critical to execute sales and marketing activities in a privacy-centric way – and so is proving you've obtained that consent. Consent matters not only for staying compliant with global privacy regulations, but also for establishing a relationship of trust between your brand and your customer base. Join this webinar to learn how obtaining valid proof of consent is key in enabling your business to acquire and unlock the value of data.
Key Takeaways:
Learn how to empower your business to be an industry leader in customer trust and compliance
Discover the latest consent guidelines for capturing, retaining and governing data
Gain an understanding on how to properly demonstrate regulatory compliance with records of consent

Format: 45 minute presentation, 15 minute live audience Q&A
Meet the Speakers
Bally Lotay
Senior Solutions Engineer at OneTrust
In his role, Bally supports the OneTrust Consent & Preference Management where he advises companies on how to drive engaging user experiences while building trust and demonstrate regulatory compliance.