Forensic imaging is essentially a 'scene of crime' process for digital information preservation. Decisions made while imaging can affect the entire investigation and could make or break your case. Join Sarah Hargreaves, Director of Training at AccessData - an Exterro Company, for an informative webinar on FTK® Imager, one of the most popular imaging tools on the market.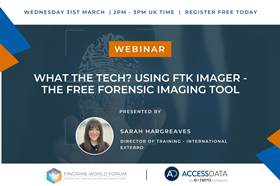 Webinar Summary
Wednesday 31st March
Event Timings:
GMT: 2pm - 3pm
FTK® Imager is a data preview and imaging tool that lets you quickly assess electronic evidence to determine if further analysis with a forensic tool is warranted. FTK Imager can also create perfect copies (forensic images) of computer data without making changes to the original evidence.
Whether you are just starting your career in digital forensics or you are more experienced, you will benefit from learning how to use FTK Imager to:
Create forensic images
Preview files and folders
Mount images for read-only views
Create hashes of files
Meet the speakers:
Sarah Hargreaves ACI
Director of Training - International, Exterro
Sarah started her career in digital forensics in 2003. Previously working in a criminal law practice, Sarah moved over to forensics after working on a number of investigations which inspired her to change career path. Her journey continued with a number of roles in Digital Forensic Laboratories, primarily supporting law enforcement in Child Sexual Exploitation investigation and general crime. Sarah progressed to Laboratory Management and later into Training Management.
Sarah is experienced in digital investigation, laboratory management, ISO17025 and evidential process. Sarah lives in the North West of England and is a mum to two young children. She enjoys days out with her family and travelling.