State-level momentum for comprehensive privacy bills is at an all-time high. After the California Consumer Privacy Act passed, multiple states proposed similar legislation to protect consumers in their states.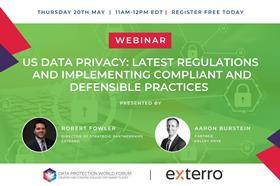 Webinar Summary
Thursday 20th May
Event Timings:
BST: 4pm - 5pm
EDT: 11am - 12pm
Organizations and privacy and legal teams need to think about using everything at their disposal to future proof practices and create an ability to respond very quickly, accurately and defensibly to the changing regulatory landscape.
Get advice on passed consumer privacy bills, such as the California Consumer Privacy Act (CPRA) and Virginia Consumer Data Protection Act (VCDPA), as well as the multiple bills introduced since the beginning of 2021.
Register for this webcast to learn:
How do new regulations like the GDPR, CCPR, CPRA and others impact data retention requirements and limits
New technology and steps you can implement now to increase your litigation readiness
Why information governance defensibility is critical, and how to achieve it
Meet the Speakers
Robert Fowler
Director of Strategic Partnerships, Exterro
Robert Fowler is the Director of Strategic Partnerships at Exterro. Robert has over a decade of experience helping legal, compliance, privacy and IT executives in the areas of information governance, data mapping, data minimization, and third-party diligence. He has helped hundreds of leading companies develop and maintain comprehensive data inventories to comply with expanding data privacy regulations and implement defensible data minimization and deletion strategies to dramatically reduce the amount of email, electronic information and paper records.
His extensive experience and knowledge of information governance and data privacy requirements enables him to help clients establish effective processes for ongoing compliance.
Robert has worked with executives at companies including J. Crew, Smith & Wesson, Louis Vuitton, Brown Brothers Harriman, Raymond James and Newell Rubbermaid. Robert is a Certified Information Privacy Professional, (CIPP/US) and has an M.B.A., Masters of Business Administration from Webster University.
Aaron Burstein
Partner, Kelley Drye
Aaron Burstein serves clients with a strong technical background and a passion for solving complex privacy, data security, and consumer protection law problems. He provides legal advice on privacy, information security, and marketing laws and best practices, including compliance with federal and state laws throughout the U.S. As regulations such as the California Consumer Privacy Act (CCPA) bring significant changes to the legal landscape, Aaron helps clients evolve their business practices to manage risk. In addition to counselling clients on the privacy and security issues that come up in the course of day-to-day business, Aaron also advises clients on legislative and regulatory developments affecting cutting-edge technologies such as drones and connected vehicles.
Before private practice, Aaron spent nearly a decade in federal government service. He was an attorney in the Federal Trade Commission's Division of Privacy and Identity Protection and a senior legal advisor to Commissioner Julie Brill. As an advisor to Commissioner Brill, Aaron provided legal and policy advice on U.S. and international privacy and data protection issues, rulemakings, and enforcement actions involving nearly every area of the FTC's consumer protection authority.
Before joining the FTC, Aaron was a policy adviser at the National Telecommunications and Information Administration, where he was the principal drafter of the Department of Commerce's consumer privacy "green paper" and the White House's Consumer Privacy Bill of Rights report. He also served as Director for Privacy and Civil Liberties in the National Security Council's Cybersecurity Directorate. Following law school, Aaron was a trial attorney in the Antitrust Division of the Department of Justice and was a research fellow at the University of California, Berkeley School of Law and School of Information.
Aaron is a Vice Chair of the American Bar Association Section of Antitrust Task Force on Big Data and serves as a member of ANTITRUST magazine. Aaron also serves as a co-chair of the Federal Communication Bar Association's Ad Hoc Committee on Consumer Protection.