2020 was a whirlwind for privacy — with a pandemic, the invalidation of the EU-U.S. Privacy Shield brought about by the "Schrems II" ruling, and the state of California continues to push privacy regulation to the forefront in the U.S., the importance of data protection continues to grow globally 2021 continues.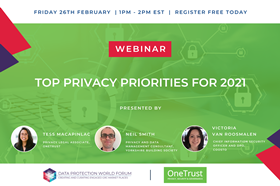 Webinar Summary
Friday 26th February
Event Timings:
EST: 1pm - 2pm
GMT: 6pm - 7pm
Join us for this session we walk through the top 5 global privacy trends in 2021, including upcoming regulations, emerging trends among privacy professionals, changing consumer behavior and the rising focus on trust in organizations.
Key takeaways:
Stay ahead with information on upcoming data protection legislation
Gain operational insights to prepare your privacy program for the coming challenges
How to future-proof your privacy program through a global, cross-sectoral approach
Format: 45 minute presentation, 15 minute live audience Q&A
Meet The Speakers
Tess Macapinlac
Privacy Legal Associate, OneTrust
Tess Macapinlac is a Privacy Associate at OneTrust, where she provides guidance on global regulations and standards and works in platform content development. Prior to OneTrust, Tess interned at the Network Advertising Initiative and the Berkman Klein Center for Internet and Society. Tess earned her JD from the George Washington University Law School. She holds CIPP/E and CIPM certifications.
Victoria van Roosmalen
Chief Information Security Officer and DPO, Coosto
Victoria van Roosmalen has a strong technical background with a decade of practical experience in information technology, data protection, and privacy. As a CISO and DPO, she is responsible for the data protection and data privacy governance at Coosto—an all-in-one social media management product ranked no. 1 in the Netherlands.
She is an ambassador of ISACA's SheLeadsTech program and serves the IAPP as a Training Advisory Board member. Victoria holds various industry certifications, speaks at information security and data privacy conferences across Europe, and participates in working groups of new industry standards and materials—such as the NIST Privacy Framework. In 2019, she was recognised among 200 individuals in Europe for making significant contributions to the security and privacy sector.
Victoria is passionate about technology—including its ever-promising possibilities and opportunities. Yet, concurrently, she also recognises its potential adverse effects and is not afraid to challenge any devil that lingers in the details. Committed to providing a safer future, Victoria is determined to empower technological advancements and its aimed benefits with proper controls
Neil Smith
Privacy and Data Management Consultant, Yorkshire Building Society
Neil is a passionate data protection and privacy professional with over 12 years' experience in both the public and private sectors. He has been responsible for the development and implementation of GDPR frameworks in several organisations and providing first line advice and consultancy on all things data protection.