The foundation of any data privacy and protection program starts with the DATA! Organizations that start with data discovery develop the insights needed to manage data for security, privacy, and compliance purposes.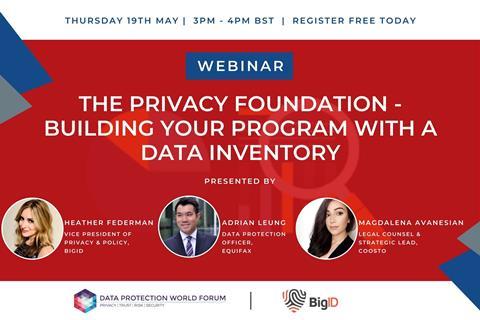 Webinar Summary
Thursday 19th May
Event Timings:
BST: 3pm - 4pm
CEST: 4pm - 5pm
The data inventory ensures alignment between regulations and internal policies while simultaneously providing real-time metrics. There is tremendous value in adding automation and machine learning to data inventory as it feeds into many aspects of a privacy program, record of processing activities (RoPA), Privacy Impact Assessment (PIA), data rights fulfillment (DSAR), and consent governance - all to mitigate privacy compliance pitfalls.
Join industry experts as we discuss how to adapt your privacy program through data discovery to overcome the current challenges of the ever-evolving privacy landscape.
Meet the Speakers:
Heather Federman
Vice President of Privacy & Policy, BigID
Heather Federman is the Vice President of Privacy & Policy at BigID, where she manages and leads initiatives related to privacy evangelism, product innovation, internal compliance and industry collaboration. Prior to BigID, Heather was the Director of Privacy & Data Risk at Macy's Inc., managing policies, programs, communications & training. Heather was also the Senior Privacy Manager at American Express Co., focusing on AMEX's Global Brand, Marketing & Digital Partnerships. She previously served as a Legal & Policy Fellow for theFuture of Privacy Forum (FPF) and as the Public Policy Director for the Online Trust Alliance (OTA), working with companies, regulators and advocates to further FPF's mission in advancing responsible data practices and OTA's mission in establishing trust in the online ecosystem.
Adrian Leung
Data Protection Officer, Equifax
Adrian is presently Equifax UK's Group Data Protection Officer where he is responsible for leading its privacy program and developing its privacy capabilities and function. Prior to Equifax, Adrian was Head of Information Security and Data Protection Officer at Catalyst where he scratch-built its privacy and security functions. Adrian has more than 17 years of privacy and information security experience gained through a variety of roles across different industry sectors, including as a managing consultant for Deloitte where he provided specialist privacy and security advisory and assurance services to his Financial Services clients. He adopts a pragmatic approach to privacy and security and strongly believes it to be a business enabler. Adrian also led a privacy and security awareness programme which won the 2018 Peer Award for Excellence in Information Security – Security Training Category.
Adrian holds a Ph.D. in Information Security from Royal Holloway and has contributed to the development of international security standards. He is regularly invited to speak at data protection and security conferences.
Magdalena Avanesian
Legal Counsel & Strategic Lead, Coosto
Magdalena Avanesian, CIPP/e, BSc. LL.B., Founder, Legal Counsel & Privacy Officer, The Tech LawyerA year ago, I started my own consultancy in the Legal, Privacy & IT field. Being part of the legal department at companies in the IT world, I discovered that in IT and in the world of lawyers, women face a lot of challenges. I wanted to break through that barrier and show how women should take the power in themselves and follow their dreams.