In this webinar we will discuss how FIs can apply innovative approaches developed for national security and law enforcement agencies to enhance the efficiency and effectiveness oftheir anti-financial crime controls.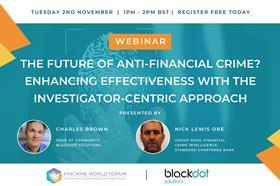 Webinar Summary:
Tuesday 2nd November
Event Timings:
BST: 1pm - 2pm
CEST: 2pm - 3pm
By placing investigators at the heart of anti-financial crime frameworks – supported by technologies that harness all available information, including open source information – FIs can enhance compliance, enable business and provide higher quality information to law enforcement. Most importantly, this approach will increase their chances of preventing and disrupting the harm caused to society by financial crime.
Key Takeaways:
Numerous voices within the anti-financial crime (AFC) community are calling for reform to the global AML/CFT framework. The Wolfsberg Group have recently released a statement that calls upon FIs to demonstrate effectiveness by transitioning toward a risk-based approach where AFC functions devote their resources toward A. investigating and mitigating high risk activity, and B. providing better intelligence to relevant government agencies.
FI should consider (and are) adopting innovations from the public sector - esp. national security agencies and law enforcement - where investigators are placed at the centre of AFC control frameworks, and equipped with technology that allows them to make better use of all available data, especially information from online sources
An investigator-centric approach can enhance compliance, enable business, provide higher quality information to law enforcement and (most importantly) increase their chances of preventing and disrupting the harm caused to society by financial crime.
Meet the Speakers:
Charles Brown
Head of Community, Blackdot Solutions
After starting his career as a compliance officer at a FTSE-listed financial derivatives trading house, Charles has spent the majority of the past decade helping organisations to mitigate complex GRC issues via corporate investigations, financial intelligence and innovative technology. A large part of his professional focus has involved working on transnational financial crime investigations and complex due diligence matters for tier one banks.
Charles currently works for Blackdot Solutions, a UK-based technology company and creator one of the leading investigations and intelligence platforms (Videris). As Head of Community, Charles' mission is to connect anti-financial crime professionals with transformational technology.
Nick Lewis
Group Head, Financial Crime Intelligence, Investigations and Government Relations, Standard Chartered Bank
Nick worked in UK law enforcement for over 30 years and led several significant operations with partner agencies around the world into organised crime threats against the UK. He has significant experience in leading complex multi-national investigations and working with public and private bodies to develop effective strategies to reduce and tackle the harm caused by organised crime activity - in particular building effective public-private partnerships and taskforce models.
In 2008, Nick was posted to the British Embassy, Washington DC. As well as leading the UK's strategic engagement on organised crime with the US government, Nick led an extensive team of embedded UK liaison officers across the US and the Caribbean, tackling organised crime groups operating at a global level.
In March 2013, Nick was awarded the National Intelligence Medallion by the US Government, and in 2014 was awarded an OBE for "services to international law and order" by Her Majesty the Queen.Nick joined Standard Chartered in 2016. He is an adviser to the RUSI "Future of Financial Information Sharing" Programme, a member of the UK Finance Information and Intelligence Committee, represents industry on a number of UK Economic Crime reform programmes and is a board member of the Global Initiative Against Transnational Organised Crime.