Join Tanya Ziv and Guðmundur Kristjánsson, more commonly known as GK, as they discuss how Customer Intelligence sits at the heart of risk-based AML procedures.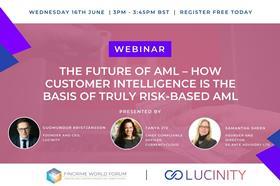 Webinar Summary
Wednesday 16th June
Event Timings:
EDT: 10am - 10:45am
BST: 3pm - 3:45pm
CEST: 4pm - 4:45pm
Tanya is the Chief Compliance Officer at Currencycloud and GK is the CEO of the AML startup Lucinity. They will cover innovative ways of understanding customer behavior through insights derived from KYC, transaction monitoring, screening and other data sources to create a holistic view of the customer.
Further topics include operationalizing AI and translating complex AI findings into actionable information and how the above impacts AML procedures.
Key Takeaways for the audience
Static and self-reported KYC is insufficient and costly.
Holistic customer views can enhance customer experience, due dilligence flows and play a vital role during AML investigations.
Customer Intelligence is the basis for a holistic view of the customer. It is vital to understand the actual behavior of the customers and how they differ from what is to be expected.
Meet the Speakers:
Guðmundur Kristjánsson
Founder and CEO, Lucinity
Guðmundur Kristjánsson, more commonly known as GK, is a veteran in the compliance space. Before founding Lucinity, GK served as Director of Compliance Surveillance Technology at Citigroup. He was instrumental in charting Citi's path to AI in surveillance and responsible for a number of successful products across the compliance space. Before joining Citi, GK served as Director of Product Management at Nice Systems, building and delivering compliance systems to top-tier banks all over the world.
Tanya Ziv
Chief Compliance Officer, Currencycloud
Tanya started her career as a M&A lawyer and over the past 12 years she has been responsible for leading the compliance drive for a number ofl eading finance, technology and telecommunications firms, acting as Head of Compliance for Lebara, eToro and Cornercard.
As Chief Compliance Officer, Tanya is in charge of Currencycloud's compliance program and further developing the company's string culture of integrity as it expands into new international markets. She's also helping to deliver continuous payment innovations to Currencycloud's clients by injecting creativity into the compliance process.
Samatha Sheen
Founder & Director, Ex Ante Advisory Limited
Samantha is a Financial Regulatory, Risk Management, Financial Crime and Legal Advisory Expert. With exemplary private sector experience in fund, trust (fiduciary) and company administration, private practice and international consultancy involving financial services businesses, she invigorates financial regulatory investigation and policy architecture with a commercial understanding and injects momentum and creative means for achieving collaboration, not seen before. Effectively designs and delivers innovative strategies and pioneers a culture of pre-emptive engagement and approach to regulatory investigation and compliance relating to the finance industry. Focused on creating robust and pragmatic business practices and strategies and an ethos of accountability ensuring organisations are capable of responding and adapting to the ever changing, ever challenging remit of regulation.
Samatha has extensive experience in the development and delivery of high quality role-specific financial crime prevention training. Topics include governance, risk management, EDD, complex structures, bribery and corruption, sanctions, tax evation, product-specific financial crime risk detection, how to provide effective training and regulatory approaches in undertaking anti-financial crime supervision.
Frequent chairwoman, moderator, speaker and panelist at various UK and International events and forums on a wide scope of financial crime prevention topics.