Changing legislation and increased risk from lawsuits from inadequate incident and breach management processes is a challenge for every General Counsel in 2021. In this webcast, hear from industry experts about the critical changes required for your response plan to minimize risk while also ensuring compliance.
Webinar Summary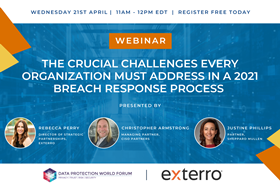 Wednesday 21st April
Event Timings:
BST: 4pm - 5pm

EDT: 11am - 12am
You will learn:
· The crucial role legal must play in updating your breach response plan
· Lessons learned from creating a compliant and defensible response plan
· How to maintain privilege and communicate with outside counsel during your response
Meet the Speakers
Rebecca Perry
Director of Strategic Partnerships, Exterro
Rebecca Perry is the Director of Strategic Partnerships at Exterro, the leader in helping companies manage their information compliantly and defensibly – in compliance with data privacy and cybersecurity regulations like the GDPR, NYS DFS, CCPA and others.
Rebecca has been with Exterro more than 25 years helping legal, compliance, privacy and IT executives in the areas of information governance, data mapping, data minimization, records retention and third-party diligence. She manages the Alliance Partnership with theAssociation of Corporate Counsel and builds strategic relationships with leading law firms.
Christopher Armstrong
Managing Partner, CISO Partners
Mr Armstrong has over twenty-five years' experience in Cyber Security, Information Assurance, Information Risk, and Information Technology leading the development of business-enabling solutions in large-scale, complex operating environments. He has extensive leadership experience in both domestic and international operations and has a demonstrated track record excelling in multi-business unit corporations, IT consolidations, diverse cultural environments, breach remediation, Industry compliance, and guiding organizational restructuring.
Justine Phillips
Partner, Sheppard Mullen
Justine focuses her practice on cybersecurity, data privacy, employment litigation and counseling, and commercial litigation. Her representations involve every aspect of cybersecurity from information governance, diligence in acquisitions/investments, incident preparedness and response, drafting incident response plans and conducting breach simulations, to advising on California Consumer Privacy Act, responding to regulators, and defending companies in litigation relating to cyber events. Justine takes a practical and thoughtful approach to assist multi-national and emerging companies on everyday issues related to electronically stored information including: privacy/security by design, cyber risk management and mitigation; eWorkforce policies; compliance with data regulations; retention/destruction policies and protocols; information-security and data privacy; crisis management and forensic investigations for data breaches; business email compromises; developing policies/protocols/trainings within an organization to create a culture of cyber-awareness; electronic discovery; and social-media issues. Justine also founded Women in eDiscovery-San Diego, Mother Attorney Mentoring Association-San Diego, and frequently publishes and speaks on cyber-related issues.
As an employment attorney, Justine handles commercial litigation for clients in the following public and private industries: cybersecurity and technology, healthcare, tribal, sporting enterprise, insurance, medical device, education, defense, cybersecurity, manufacturing, retail, non-profit and for-profit industries. Justine also regularly advises clients on issues relating to: classification; leave policies; defense of ADA and FEHA disability discrimination claims; interactive process and reasonable accommodation; wage and hour matters; information management; social media; employment agreements; and employee handbooks. Justine has defended companies in both state and federal court against claims of discrimination, harassment, retaliation, and wrongful dismissals