As investors, other companies, employees, customers, and other stakeholders increasingly look to ESG policies and metrics to make investment, business, and purchasing decisions, the role of compliance must expand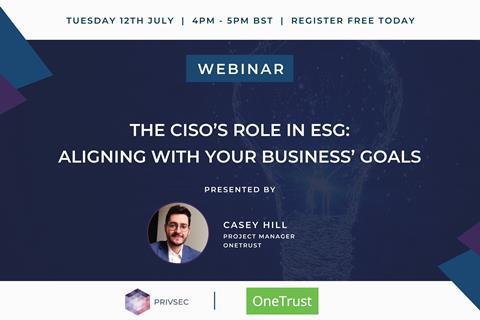 WEBINAR SUMMARY
Tuesday 12th July
Event Timings:
BST: 4pm - 5pm
EDT: 11am - 12pm
As investors, other companies, employees, customers, and other stakeholders increasingly look to ESG policies and metrics to make investment, business, and purchasing decisions, the role of compliance must expand. Compliance policies must expand to align with ESG objectives, especially as the SEC proposes new rules for climate disclosures. In this session, we'll cover the steps compliance officers can take to incorporate ESG into their practices, and discuss best practices for ESG program management, reporting, and analytics.
- Best practices for ESG program management, reporting, and analytics
- How to incorporate ESG into compliance practices
- ESG polices and metrics that matter
Meet the Speakers:
Casey Hill,
Project Manager, OneTrust
Casey Hill serves in the Product Management organization at OneTrust – the #1 most widely used privacy, security and governance technology platform. In his role, Casey leads multiple product teams to deliver solutions for the OneTrust Consent Management Platform and advises companies large and small on the ever-changing landscape of web tracking and digital advertising compliance best practices. Casey also sits on a number of IAB working groups and chairs the Transparency and Consent Signals Working Group. Casey is a Certified Information Privacy Professional CIPP/E, CIPM, and earned a Bachelor's of Engineering from the University of Michigan.