It is widely acknowledged that human error is the leading cause of data breaches. Arming your people with smart solutions to prevent security incidents should be a top priority in our new world of remote working.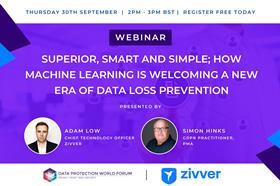 Webinar Summary
Thursday 30th September
Event Timings:
BST: 2pm - 3pm
Machine learning is proven to increase productivity and accuracy; applied to data loss prevention, and the opportunities are remarkable. Disruptive in all the right ways, innovative new solutions are empowering employees to be their organisations greatest security defence.
On Thursday September 30th at 2pm BST, our speakers will investigate how every organisation today can leverage software to instill an organisation-wide culture of unparalleled secure communication as standard.
Key outcomes:
Investigate the vital role of machine learning in countering data leaks
Data security is a culture and your people can instill it - but only when armed with the right tools for the job
Your data security solution may not do everything you think it does
Identify and understand the gaps in your DLP and how to fix them
Meet the Speaker:
Adam Low
CTO, Zivver
With 25 years experience designing and developing technology for industry leading companies including BT, PlusNet and Telstra, Chief Technology Officer at Zivver, Adam Low, has a wealth of knowledge in leading teams across every area of an organisation in the delivery of complex technology solutions. A specialist in information security and communications technology, Adam is dedicated to creating value and excellence for the customer through the advancement of product and engineering frameworks and processes.
Simon Hinks
GDPR Practitioner, PMA
A member of the GDPR Institut and the EADPP, Simon has written core modules for the IDM (Institute of Direct Marketing) GDPR certificate which was awarded a certificate for best online GDPR course, including being a judge for the DMA and Loyalty Awards.To date Simon has made over 80 businesses compliant with the GDPR regulation, which includes everything from schools, charities, musicians , agencies and manufacturing businesses. He also has clients in Turkey, Germany, and the US.He is a guest lecturer at the Pittsburgh University helping their MA and business students understand the impact of GDPR across the world.