Data volumes are increasing exponentially, and companies need seamless and trustworthy technology that will enable them to keep track of their data sources and know what PII is there.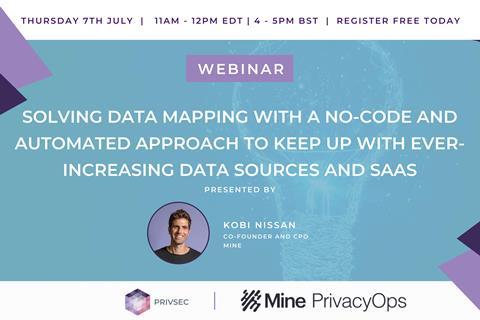 WEBINAR SUMMARY
Thursday 7th July 2022
Event Timings:
EDT: 11am - 12pm
BST: 4pm - 5pm
CEST: 5pm - 6pm
This webinar will be discussing how businesses can keep up with evolving data flows and regulations in 2022 and beyond; and why the future is with no-code, fast-to-set-up automated data mapping tools that reduce privacy and security risks, simplify privacy rights fulfilment, and save precious resources.
Meet the Speaker:
Kobi Nissan
Co-Founder and CPO, Mine
Kobi Nissan is an experienced entrepreneur with a demonstrated history of working in the venture capital and private equity industry (Saban ventures, 10+ investments). Nissan brings over a decade of experience in product strategy (Accenture), business intelligence, business development, and behavioral economics (Candy Crush's- King Digital Entertainment) and holds an MBA from INSEAD.