In this webinar, you will be introduced to Informatica's data governance for privacy model that brings together business and technical policy stakeholders to operationalize data discovery, classification, identity mapping, risk analytics and data protection.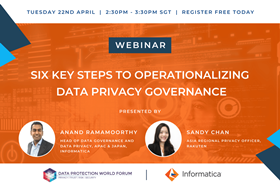 WEBINAR SUMMARY:
Thursday 22nd April
Event Timings:
SGT: 2:30 pm - 3:30 pm
BST: 6:30 am - 7:30 am
Through Informatica's metadata-driven intelligence platform that applies AI and machine learning, organizations can mature their privacy program and fill gaps in privacy controls to strengthen privacy and security policy enforcement, using a repeatable approach that scales with you and future privacy mandates, worldwide.
Meet the Speakers:
Anand Ramamoorthy
Head of Data Governance and Data Privacy, APAC & Japan, Informatica
Director and APJ Head of Data Governance and Data Privacy business for Informatica Corporation based out of Melbourne, Australia with over 20 years of experience in Data Management and Data Governance focused on enabling organizations to extract value from data.
Anand has broad exposure working for Multinational Companies, Consultancies and Software Vendors in multiple geographies and industries. During this time, he has held various consulting, project management and leadership positions across industries. The explosion in data over the last decade has supported and fed his passion for data and using technology to discover insights and create value
Sandy Chan
Asia Regional Privacy Officer, Rakuten
Sandy is the Asia Regional Privacy Officer, Data Protection Officer and Legal Counsel with the Rakuten Group. Having joined the Rakuten Group in 2015, she is a key advisor for the strategic development of Rakuten's Global Privacy Program.
As Regional Privacy Officer, she is responsible for overseeing privacy compliance in the region. She leads Rakuten's network of privacy professionals in interpreting the various privacy laws in Asia, incorporating policies into businesses, and aligning them with operational demands. She hands incident management and breach response tactfully and is a driving force for the promotion of privacy initiatives in the region.
She believes in privacy's strategic role in enabling innovation while empowering individuals.
Sandy is certified with the International Association of Privacy Professionals as a Certified Information Privacy Professional in Asia Privacy Laws, and a Certified Information Privacy Manager. She has been invited to speak in various panels and sessions on privacy, and provides pro-bono consultations to the start-up industry on privacy related matters.