Marketing leaders are grappling with data and privacy challenges - a catalyst to rethink their tech stacks, customer experiences, and UX.
Webinar Summary: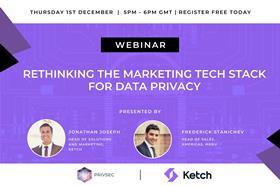 Date: Thursday 1st December
Time: 5:00 PM - 6:00 PM GMT
Format: 45 minute presentation, 15 minute live audience Q&A
What do marketing teams need to know about data privacy requirements and challenges? And how should privacy practitioners partner with them to solve common problems like customer consent, data utilization, and business partnership productivity?

In this session, we'll unpack privacy as a priority for marketers. From use case considerations, to real implementation examples, to privacy tech best practices: you'll learn how marketing and privacy teams should collaborate to create a better marketing tech stack, optimized for increasing responsibly gathered data and top line growth.

Three key takeaways for attendees:


Learn about the data privacy challenges that marketers face today, and how privacy practitioners can and should partner with marketing to solve common problems


Learn how privacy tech, such as consent management platforms, should be part of the new foundation for a modern privacy tech stack


Understand the landscape of new privacy-safe marketing technologies and how they complement a privacy program, such as data clean rooms
Meet the speakers:
Jonathan Joseph
Head of Solutions and Marketing at Ketch
JJ leads Customers Solutions at Ketch. Prior to Ketch, JJ led Strategy and Innovation at Krux, a leading data management platform acquired by Salesforce in 2016. While at Salesforce JJ led Innovation Consulting before returning to work with the founding Krux team at Ketch. JJ brings a wealth of digital marketing and data strategy expertise to Ketch.
Frederick Stanichev
Head of Sales, Americas, Habu
As Habu's Head of Sales, Americas, Frederick is passionate about B2B tech sales and helping customers solve their challenges through innovation and delivery of new operational models leading them to growth. Habu is redefining how companies work with data - building software that puts privacy first and delivers on business outcomes. Frederick leads Habu's Sales team for the Americas aiming to transform the privacy safe data collaboration ecosystem and has a long-standing track record of bringing cutting-edge data and customer centric solutions to market and driving adoption. Previously Frederick led Enterprise Sales for the Salesforce Retail vertical, Data & Identity products globally and prior to that led Publisher Sales for Krux which was acquired by Salesforce in 2016. Before Krux, Frederick was an integral part of the Maxifier founding team where he held a variety of roles across Sales, Product, and Client Services leading to the Cxense acquisition.