Email is a vital communication tool for organisations globally. But email is the top security risk for healthcare providers as employees accidentally leak data everyday.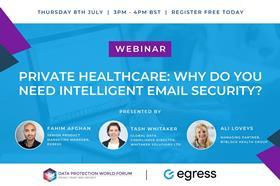 WEBINAR SUMMARY
Thursday 8th July
Event Timings:
BST: 3pm - 4pm
EDT: 10am - 11am
This exposes organisations to a wide surface area of risk caused by human error. IT leaders in the healthcare industry reported there has been a 46% increase in data loss via email since remote working as employees are feeling worse, more tired, and more stressed.
Organisations are paying a considerable price for email data leaks and 92% have suffered negative outcomes following a material incident. Join this webinar to learn how you can mitigate data security risks caused by employees' increased reliance on digital communication.
What you will learn:
Understand the risks inherent in email usage
Why legacy technologies have failed to prevent breaches
How intelligent security can mitigate human error for healthcare organisations
Meet the Speaker:
Fahim Afghan
Senior Product Marketing Manager, Egress Software Technologies
Fahim is a passionate advocate of intelligent email security concepts that exploit new technologies to help customers mitigate insider risk and transform security into a competitive weapon.
Before joining Egress, Fahim served as Head of Product Marketing at Global Data plc, a leading data and analytics company headquartered in London. Prior to that he was Vice President, Content at Gartner Supply Chain.
Fahim is a keen guitarist, having played for the best part of three decades, while he also likes to ruin a nice walk with a round of golf. He lives in north London with his wife and two young children.
Tash Whitaker
Global Data Compliance Director, Whitaker Solutions Ltd
Tash started her career managing master data, implementing governance and protecting data privacy in the days when Mark Zuckerberg was still writing BASIC on his Atari and GDPR was not yet a four letter word. With over 20 years of experience with Dun & Bradstreet, Cisco and Moorcrofts LLP, Tash now uses her knowledge and experience to guide organisations through their data privacy journey, offering consultancy, advice, and training, as well as data privacy as a service.
With a sound educational background (BA (Hons) CIPP/E, CIPM and a DPO certification from Maastricht University, Faculty of Law), Tash shares her thought leadership by speaking at conferences, industry forums and learns from her extensive LinkedIn network of like-minded professionals.
Ali Loveys
Managing Partner, BTblock Health Group
Dr. Loveys is a pioneer in emerging digital technologies in healthcare including electronic health records, health information exchange, digital health transformation, supply chain, and payment systems and models.
Prior to joining BTblock, Dr. Loveys led US Healthcare Blockchain for EY and was the Foundation Relationship and North America Market Lead at ConsenSys Health. She was in the inaugural class of United States medical board diplomates in clinical informatics. As such, her work bridges clinical, business, technology, policies, regulations, and standards within healthcare.