Information technology (IT) professionals are sometimes asked to support their organization with its operational technology (OT) needs, often with little guidance. If that's the case, do IT cybersecurity best practices translate well to OT environments? Let's find out!
WEBINAR SUMMARY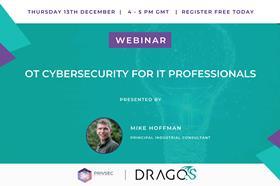 Date: Thursday 13th December

Time: 4:00 - 5:00 PM GMT
Traditionally speaking, IT teams are responsible for business applications and associated equipment across an enterprise, along with the processes required to store, exchange, and secure the related data. Conversely, OT teams focus on industrial control systems (ICS), which are the systems, devices, and processes that affect physical environments. OT teams face unique challenges to see, understand, and respond to the growing cyber risks that exist in critical infrastructure.
So…what are the key differences between IT and OT? Are there any similarities? And how do they converge?
Join us for a discussion on what makes ICS / OT environments unique, and how you can align the people, processes, and technology in your organization to work towards the common goal of a building a sustainable approach to cybersecurity.
Meet the speakers:
Mike Hoffman
Principal Industrial Consultant
Bio coming soon!