Join us on this webinar replay to hear expert views and perspectives on what the GDPR says around data processors and to take a holistic view on the risks associated with non-compliance.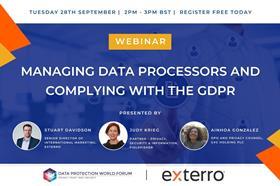 Webinar Summary
Tuesday 28th September
Event Timings:
BST: 2pm - 3pm
CEST: 3pm - 4pm
Exterro and industry experts share five critical questions that every organisation needs to ask themselves, they explore the challenges around knowing who your data processors are, as well as how technologies can help to establish compliance and mitigate risk from data processors.
Meet the Speakers:
Stuart Davidson
Senior Director of International Marketing, Exterro
Stuart Davidson is the Senior Director of International Marketing at Exterro. Exterro empowers legal teams to proactively and defensibly manage their complex Legal Governance, Risk and Compliance (Legal GRC) requirements. We are the only software provider offering a comprehensive Legal GRC software platform that automates the complex interactions of privacy, legal operations, digital investigations and cybersecurity response, compliance and information governance.
Thousands of legal teams around the world within corporations, law firms, and government and law enforcement agencies, trust our integrated Legal GRC platform to manage their risks and drive successful outcomes at a lower cost.
Ainhoa Gonzalez
DPO and Privacy Counsel, GVC Holding Plc
"I joined GVC Holding Plc, a multinational sports betting and gaming group, in May 2014 and am serving as Data Protection Counsel. I am accredited as an information privacy professional/Europe ("CIPP/E") and also the Data Protection Officer for several territories including key gambling jurisdictions, such as Gibraltar, Malta, Spain or France and I provide support to the business in Latin America and other jurisdictions across the world.
As a Spanish lawyer with extensive knowledge of UK law, I understand the complexity of multinational companies and how the safeguard of the privacy of customer and employee data, has become a business-critical requirement for all organisation around the world. I set out a commitment in achieving a consistent interpretation of Data Protection Laws and ensuring the same level of data protection is achieved across all countries in which GVC operates.
I am particularly focused on taking a proactive approach on data privacy and cyber security and have used my experience to assist organisations to implement cyber security and data protection best practices and compliance programmes to ensure compliance is embed not only at early stages, but also when evaluating and deploying new technologies."
Judy Krieg
Partner – Privacy, Security & Information, Fieldfisher
Judy is a partner in the Privacy, Security & Information group at Fieldfisher in London. She is a UK and US qualified lawyer, and holds Certified Information Privacy Professional (Europe) status (CIPP/E).
Judy's expertise includes all aspects of implementing the GDPR as well as the California Consumer Privacy Act (CCPA). She regularly implements and updates privacy compliance programmes, assesses privacy and cyber risk (including in connection with mergers, acquisitions and joint ventures), and leads personal data breach investigations and reports to regulators and data subjects.
In her spare time, Judy is studying for a Masters degree in Software and Systems Security at the Computer Science department, University of Oxford.