Last year, legal teams across the globe were caught unaware by the sudden necessity of remote work and the ensuing explosion of data that went along with it.
WEBINAR SUMMARY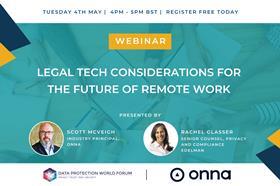 Tuesday 4th May
Event Timings:
BST: 4pm - 5pm
EDT: 11am - 12pm
Now, as organizations across the globe continue to operate remotely, it's prudent for legal teams to look to the future. What's next in the evolution of remote work technology? How can we, from a data management standpoint, best prepare ourselves?
Join our panelists to learn how the workplace is changing, and the tactical steps you can take to access, control, and protect your data for eDiscovery, information governance, compliance, and more.
Meet the Speakers:
Scott McVeigh
Industry Principal, Onna
Scott McVeigh is the Industry Principal at Onna, a Knowledge Integration Platform on a mission to make enterprise information accessible, useful, and private. Onna currently integrates with over 30 of today's most popular applications and helps companies with Compliance, Information Governance, eDiscovery, and more.
Scott has over 15 years of experience in the Information Governance space, and was previously the VP of Service Delivery at Deloitte.
Rachel Glasser
Senior Counsel, Privacy and Compliance, Edelman
As the Senior Counsel, Privacy and Compliance, Rachel Glasser oversees privacy and data protection matters for Edelman with a focus on the data intelligence unit, DxI. She is responsible for overall compliance design, audit roadmaps, as well as data privacy laws and regulations, particularly in regard to the General Data Protection Regulation (GDPR), the California Consumer Privacy Act (CCPA), and emerging state laws and the impact on business.
In her role, Rachel focuses on appropriate data collection and its use in online marketing for data management and optimization, e-commerce, brand safety and data privacy education. Prior to her role at Edelman, Rachel served as Global Chief Privacy Officer for Wunderman Thompson, and as Director of Privacy at GroupM prior to that.
Rachel has a Bachelor of Arts in politics from Brandeis University and a Juris Doctor from Brooklyn Law School. She is admitted to practice law in New York and New Jersey and is a CIPP/US.