Conducting investigations involving financial crimes such as fraud, money laundering, political corruption, insider trading or cybercrime, can be very complex.
WEBINAR SUMMARY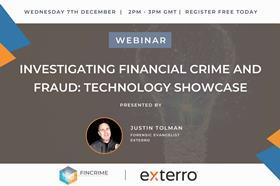 Event Timings:
Wednesday 7th December 2022
GMT: 2pm - 3pm
In this technology showcase, Exterro will demonstrate how their FTK technologies can help FinCrime professionals and investigators to combat financial crime and fraud.
Meet the Speaker:
Justin Tolman
Forensic Evangelist at Exterro
Justin Tolman is the Forensic Subject Matter Expert at Exterro. He was formerly the Director of Training for North America at AccessData prior to and after the acquisition by Exterro. Justin has been developing written and video programs and training AccessData clients worldwide for almost 6 years. He also consults with clients on investigations and problems related to forensic issues and procedures.